Alex Musson
Taller Than Jesus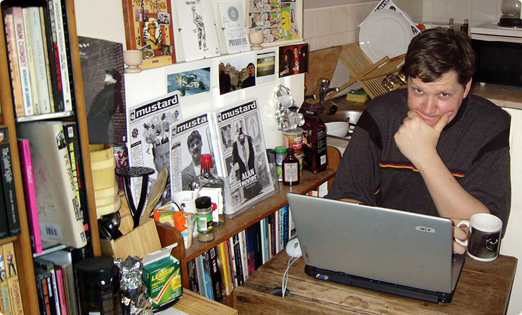 CREATOR / EDITOR / WRITER / DESIGNER / PUBLISHER / TEA-BOY
Hello, I'm Alex, creator of Mustard magazine. I edit, design and publish the mag (and this website) and write about half of each issue.
I started a black & white version of Mustard back in 2001, putting together the photocopied magazines in my spare time around my day-job of website design.
I also wrote and performed sketches for BBC Radio 1 and scripted comic books for FutureQuake magazine. Between 2002 and 2003 I performed stand-up (making the BBC New Talent semi-finals) and improv (with Isy Suttie and Andrew O'Neill), and regularly appeared on panel quiz Competetive News Bonanza.
In 2006 I started the new colour, professionally printed Mustard magazines that you can buy on this website and in shops. I published four of those over a year and a half before the recession hit, which killed off many indie mags. Mustard was forced into hibernation for a couple of years.
Having made myself skint, I went back full time to my day job of website design. But I soon got back into comedy writing, having beeen comissioned by my Alan Moore to write two pages per issue for his new magazine Dodgem Logic. This reinvigorated me on the writing front and helped me build up new content, and so Mustard reappered in December 2010 with issue #05 – three months after the birth of my first son, Thomas.
Child-rearing and the need to earn more money to support a family has kept new Mustard issues to a slower schedule. Issue #06 came out in June 2011, #07 in July 2012 and #08 in July 2013, delivered on the same day as my second son, Harry. Two kids and a mortgage means no free time for more issues, however I plan to publish eight iPad editions and print a couple of collected edition books.
You can contact me on 07958 799763 or at laugh@alexmusson.com.
My articles and images in the colour Mustards:
Spoof News:
Spoof Articles
Characters & Stories
Spoof Movie Posters
Spoof Magazine Covers
Spoof Ads
Infographics
Comic strips (scripts)
Minis
Posters
Interviews
THE BIG ONES (8-16 PAGES)
THE SHORT ONES (1-2 PAGES)
Profiles
'Cult Corner' Reviews