The writer-producer on Blackadder, QI, Spitting Image, Hitchhiker's Guide to the Galaxy, Not The Nine O'Clock News, The Meaning of Liff and Peter Cook's Life in Pieces.
EXCLUSIVE 10-PAGE INTERVIEW
EXTENDED INTERVIEW!
Our interview with John Lloyd was so big that we couldn't fit it all in the printed magazine.
So here we present all the additional material, which includes John's memories of writing Meaning of Liff and Dr Snuggles with Douglas Adams, working with Peter Cook, directing those Barclaycard ads with Rowan Atkinson, getting his big break in radio comedy, and why they dubbed over a lawyer's name in Blackadder.
On Producing
Most people know what writers and directors do, but what about producers?
In TV and radio comedy, the producer has the best job: you generate the ideas, work on the script, cast the actors – on radio, you may even do the coconut shell sound-effects. Directors, in comedy at least, often tend to be more technical people who point the camera at things.
In film, it's the other way around: the director is the big guy and the producer is the nuts-and-bolts person who organises the finance, the hiring and firing, and so forth. I get the best of both worlds, really, because I direct ads, which is the fun bit there, and I produce telly, with brilliant guys like Ian Lorimer on QI, to do the hard work of multiple-camera directing.
As for what producers do... it's a paradox. They do everything and nothing. It's their fault if the show's no good. A director can blame a terrible script, but a producer has no excuse. I always take complete responsibility but, in return, I require – not people's love or respect – but for them to do what I ask. Occasionally, you have to pull rank just to get things done.
The producer makes the map of the journey, but he doesn't build the boat or trim the sails. I can't compose songs, make costumes, act, or focus-pull even the simplest moving shot. But crews will do anything for a producer/director who's polite and who knows what they want.
So you're the steersman, giving it a light touch here and there to keep it on course. And you'll make mistakes, because the picture of the destination in your head is like a distant shore that you're trying to dimly discern through the mist.
Was there a formula to creating your shows, or was it a gut instinct?
The only shows I count as 'mine' are the ones I was in at the beginning of. I like starting with a blank sheet and trying to create something where nothing was before.
The first thing that comes to me, even before the concept, is the flavour. Programmes are a bit like food, and producing's a bit like cooking. Every programme is created from the same basic ingredients, yet it results in everything from the worst show you've ever seen to something unforgettable.
So I start by thinking, "What's not on telly that I'd like to see?" You're looking for an absence, a gap. Then, "What feeling should it have?" People think it's all about the format – the rounds, the team captains, the signature tune. But all great programmes are about tapping into some universal human need or emotion. Blackadder is 'the boss is an arse'. Spitting Image is 'famous people are no better than us – they all go to the lavatory'. They're very simple things. You're looking for the feeling viewers will have, sitting at home on the sofa with a beer.
With Not The Nine O'Clock News, I wanted to see a show which: a) was 20 years 'younger' than The Two Ronnies (where people were still wearing cravats); and b) had a sense of going to your favourite rock concert, with girls and music and a terrific sense of excitement and joy.
Would you classify yourself as an 'ideas man'?
I don't take credit for ideas. They're like fish floating past. The trick is to be open, to see them floating by and seize them. And then, if it turns out to be a poisonous fish, you need to make the best of it. It's the difficulties that produce the wonderful, golden stuff.
Some years ago they asked a load of directors what film they would make with an unlimited budget. The resounding answer was that they wouldn't want to, because if you can do anything, go anywhere, have any actor or actress you want, you get lazy and sloppy and there'd be no focus.
My main quality is that I'm extremely stubborn and don't like to admit that a good basic idea is wrong. Most shows I've done – Spitting Image, Blackadder, Not The Nine O'Clock News – were very badly reviewed when they first came out and were considered to be failures. But I kept pressing on with them. I think creativity is about keeping faith with your intuition.
Do you feel you get enough credit?
Yes, and I get far more credit than most producers.
If you think of the wonderful producers who were around when I was young – Terry Hughes, Syd Lotterby, Ernest Maxin, Jimmy Gilbert, John Howard Davies – they were gods! I knew their names, but most people would never have known who the producer of The Two Ronnies or Morecambe and Wise or Porridge was. They'd have to be a comedy geek and read the credits.
I've had far more credit than those guys. Which could sometimes be an issue. For instance, we used to put the Not The Nine O'Clock News books on the desk of my boss, John Howard Davies. He'd be very annoyed because he'd produced Fawlty Towers and Monty Python and never managed to get his name on anything more than the Foreword.
I don't know why I get so much credit; I don't seek it. I think I've worked harder than many people, but let's face it nobody normally thanks producers – why would you thank the boss?
Directors are quite different. Sometimes I'd watch directors bouncing off the set after the recording going, "Yes! I'm amazing," with everybody congratulating them. They'd be in the bar buying rounds of drinks and laughing, and I'd be going back to the office with my head in my hands thinking, "How on earth am I going to edit this?"
But I used to get a secret, slightly puritanical feeling from knowing that, if I hadn't been born, these shows would have been very different, or perhaps wouldn't have existed at all.
Early Career
How did you start out in comedy?
When I started in the early 70s, I wanted to be a writer/performer, but you couldn't do that in those days. There were no stand-ups of my age – they were all in their 50s and from the north, that was the tradition.
I was at Cambridge, where Footlights hadn't been very successful for a while – the last really good one was Clive James and Germaine Greer, bizarrely. And it had been 10 years since the world-famous A Clump of Plinths with John Cleese, Bill Oddie and Tim Brooke-Taylor.
I graduated in '73 as with a very poor third-class law degree. I'd realised very early on that I wasn't going to make a good lawyer; I spent my whole time doing plays, writing sketches and the gossip column for the university paper, that kind of stuff.
In my last term, I was fired from Footlights for, as I jokingly put it, 'being too funny'. I ruined two perfectly good straight plays at Cambridge by getting laughs when I didn't mean to. When I got to London, because stand-up wasn't an option, we used to put on revues at places like the Bush Theatre, with seven of us in the cast and 14 in the audience, and lose all our money.
Then you went to the BBC?
I was trying to make a living as a writer, and starving, when David Hatch – who went on to great eminence as Managing Director of BBC Radio and Special Assistant to the Director General – called me into his office and asked me if I wanted to be a producer. I said, "No, not really, I'm not sure what they do." They all seemed very old to me; they'd just bumble about in tweed suits and offer you cups of tea.
He said, "Look, we'll give you some money to be a trainee producer, you can write as well, and if you do more than £1,800 worth of writing in a year, we'll pay you extra." So it seemed like a good deal.
There I was, at just 23, having never wanted to produce or direct anything before, and I found myself completely riveted by it – it was really exciting and difficult and satisfying. It felt like what I was born to do.
And I had a great piece of luck. I started producing Just A Minute, which had been running for about seven years, and after my first week there was a review in The Times saying, "John Lloyd's Just A Minute goes from strength to strength." I thought, "Wow, this is amazing!" But you can imagine how cross the rest of the department was, because (a) it wasn't 'my' Just a Minute at all and (b) you never got reviews in radio, then as now.
Then I went on to the main producer-training programme at the time, Week Ending, a 15-minute topical show that went out late at night just before the news. There was a rotating cast, including Bill Wallace, David Jason – none of us could understand why he wasn't amazingly famous – and Nigel Rees, with whom I went on to start Quote Unquote in 1976.
The cast were incredibly good at their jobs and used to putting up with producers who were wet behind the ears, and with a rag-bag of new writers doing one-liners.
On a topical show, you're faced with very specific challenges. A stand-up can talk about anything: what it's like in supermarkets, "Isn't it funny about octopuses?", whatever. In topical comedy, you've got to make some attempt to cover the main news stories, and it forces you to make jokes about things that you wouldn't normally write about. You're pushed into a very tight box, and that gives you discipline.
For the first time, I found that my training as a lawyer was useful, because legislation is about using exactly this word, exactly positioning that comma. Comedy is the same in that, to work effectively, it requires an exacting use of language.
Dr Snuggles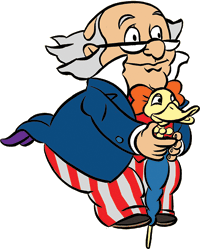 A lot of people my age have fond memories of the cartoon Dr Snuggles. I remember watching the episode about the river, which, years later, I found out was written by you and Douglas Adams.
Yeah, Douglas and I were best friends in the mid '70s. He was six months younger than me and came out of Cambridge a year later. We didn't know each other that well at university, but afterwards we became incredibly close and shared a house for a couple of years. At Cambridge you meet so many talented people who come from such amazing backgrounds – sons of famous actors or bank chairmen – whereas Douglas and I connected, I think, because we came from comparatively modest backgrounds. But Cambridge does give you ambition; you come out thinking, 'God, I could do anything!'
So we did a lot of writing together in the evenings. We both struggled to make a living, even though he did some work with Graham Chapman and Ringo Starr. So anything that paid got us terribly excited. We wrote a sitcom pilot called Snow Seven and the White Dwarves about two ill-matched astronomers sharing an observatory on the top of Everest, and a film treatment about the Guinness Book of Records, which very nearly got us a trip to Bermuda.
I used to sit for hours in the evenings trying to write quickies for Dave Allen or one-liners for The Two Ronnies – I only ever got two of those on, but I still get payments for them – '5p for sale to North Africa', that kind of thing. Douglas was very bad at it: he couldn't see the point of copying other people's styles
Then we got a call from a Dutch producer with the wonderful name Joop Visch (pronounced Yoop Fish) – he had an assistant called Wim Oops and a secretary called Veronica Plink! (laughs) He was a really clever guy, very smooth, very good-looking. He said he was doing this huge worldwide series about a crazy 'Professor Branestawm' character called Dr Snuggles, and would we like to try writing for it? It was £500 an episode between us – a fortune! I was earning £1,800 for a whole a year at the BBC.
We worked very hard on it in the evenings, and it was the most fun we'd ever had. Douglas and I both had strong visual imaginations, hence Douglas's science fiction skills. And we'd both been academically focussed for so long, so it was fun to do something that was for children and didn't involve sitting in libraries.
We wrote two episodes. The one you mention is 'Dr Snuggles and the Nervous River', where all the animals were thirsty and the plants were dying because the river had rolled up back into its cave in the mountains and wouldn't come out. Dr Snuggles investigates and it turns out it's because people are polluting the sea and the river is frightened to go there. It was very unusual at that time to do a kids' cartoon with an ecological theme.
The Meaning of Liff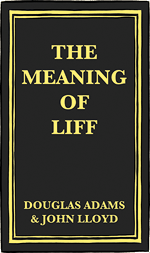 You and Douglas Adams wrote together again on The Meaning of Liff, apparently whilst on holiday together?
Yes, it was another ridiculous series of events. I'd got the boot from HHGG and was very cross with Douglas for a while. But we had already booked a villa in Corfu to co-write the first novel. My agent managed to get my half of the money for the advance – £1,500, which is all I've ever been paid for Hitchhiker.
But I've never resented it. I've never made enough money to stop working. I've never been spoiled or thought I'm a genius 'cos millions of people round the world tell me I am. I'm still struggling on. Every day is still as hard as it was 25 years ago, which keeps you going, it keeps you fresh, keeps you interested.
Anyway, we'd booked this villa, so we both still went. And it was great. There was a wonderful young British couple next door whom we got on really well with. And Douglas had invited strings of girls along: "Oh, I'm writing my novel in Corfu." So some lovely girls came out to stay for a week each, and we were there for a month.
So Douglas the great novelist-to-be sat on the veranda with his typewriter, sunglasses and a giant trilby that you could see from the beach. Meanwhile the girls and I would stumble down to the taverna on the shore and get pissed all day with the mad owner, Manthos, who taught me some wonderful rude Greek. We'd muck about, play Scrabble, talk, drink lots of retsina. And every so often Douglas would come down just before lunch, exhausted, having written two sentences, and say, "Oh God, I suppose I'd better have a glass of wine..."
And that's where we started what became The Meaning of Liff. It was a game Douglas's English teacher used to get the class to play at school. You know, "Tell me what an Epping is." We had a huge laugh playing it, and I wrote them all down. Then later, when we came to do one of the Not The Nine O'Clock News calendars – a hell of a big job, a joke for each day – I found these Liff notes and stuck them in the calendar as the 'Oxnard Eglish Dictionary'. Matthew Evans, the MD of Faber said, "This is the best thing in the book, John. You ought to do this as a book itself."
When Douglas heard about it, he rang me up and said, "Let's do it together." It was 1982 by then and he was making his first attempt to get the Hitchhiker movie off the ground. He said, "Oh, Johnny, I'm sorry I've got to go to LA: I've taken Donna Summer's beach house in Malibu – have you heard of Malibu? I'm afraid I've got to be there for most of the summer. Can you bear to come out there?" So I had six weeks in California! Best job I ever had, really.
The Deeper Meaning of Liff was quite a few years later wasn't it?
Yes, 1987. With the second one, Douglas had a similar problem: he was on a book tour in Australia. He'd rented a massive house in Palm Beach: eight verandas and its own foreshore. So I was dragged out there (very willingly, I must say) to do it. It was marvellous. As usual, he's invited lots of other friends. We laughed a great deal, we never ran out of things to say.
The only thing was that Douglas was quite lazy. If he could possibly get out of actually doing anything, he would. In Malibu, he and Jane would go out shopping all day, have lunch with Hollywood moguls, and I'd sit on the deck and type jokes. Then Douglas would come back and say, "I think it's time for a little Martini, don't you?" (laughs). But the thing is, he was so brilliant that he would cram the same amount of work that had taken me a day into an hour. So it worked out pretty well.
As a co-writer, Douglas was great, as he was so full of ideas. He'd spew out all this stuff and I'd make it neat and tidy. As a producer, he could be difficult because he was so disorganised. He only managed to produce one radio show, and really Geoffrey Perkins and I had to do it for him. He had too many ideas, and went rushing around like a headless chicken running for a bus. But as a co-writer, I have nothing but praise for him. There was no pain, no fighting, no sulking – which there can be a lot of in comedy, especially when you work in groups.
Blackadder
(additional)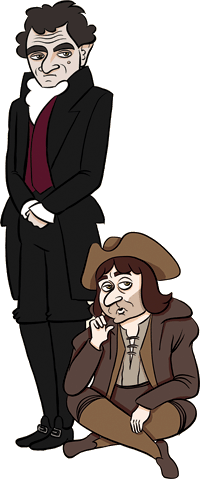 As each series goes along, Blackadder becomes a more decent person, whilst at the same time decreasing in social standing. Was that on purpose?
In Shakespeare, it's known as the intentional fallacy, isn't it? The question of whether it matters if the author consciously chose the underlying themes and imagery or not. I'm not sure how conscious that was, I'm not sure if it even matters. But yes, it's definitely there.
It's particularly noticeable in series four, which like series two features Bob and Flashheart. But this time Blackadder recognises Bob as female right away and doesn't take advantage of her. Plus he now hates Flash, rather than admiring him.
I don't think we consciously crafted these supposedly 'brilliant' playwright-type structures, but we were certainly trying make Blackadder more than a mere extended sketch. We could see that, if he was a butler, for example, he'd have a different attitude, a different turn of phrase and so on. Those things are taken on board and to some extent dictate the action.
Here's a real comedy-nerd question. In the series four episode 'Corporal Punishment' Blackadder and a guard, played by Jeremy Hardy, talk about a lawyer whose name is clearly dubbed over as 'Massingbird'. Why?
The original name – I can't remember it exactly, I think it was double barrelled – was a barrister friend of Richard Curtis. Dick often put friends' names into sketches; he did it all the way through Not the Nine O'Clock News. It's a simple way of coming up with fresh character names that aren't clichés.
Richard thought his friend would be very flattered to have his name in Blackadder, which at that stage was huge. But when he told him – after it had already been recorded – this guy was horrified. As a barrister, he wasn't allowed to have his name used in case it was classed as advertising: some technical thing that lawyers weren't allowed to do in those days. He also worried that, if his clients heard his name in a silly context, they'd all go elsewhere.
So whether for legal reasons or personal, Richard rushed in and said, "Help, help! Change this!" And we got the actors back in to dub it over. Not very well, evidently.
Peter Cook: A Life in Pieces
How was directing Peter Cook in the Life in Pieces series of five-minute shorts?
I didn't really know much about Peter before I met him, because I was at school when the 60s satire boom happened and we weren't allowed to watch television. So I got to know him quite late in his career, and I got on amazingly well with him. We used to laugh and drink an enormous amount. He was a fantastically good bloke.
For various reasons too complicated to go into now, we found ourselves doing some writing together. He used to blather on and I'd laugh myself silly, tape record it, then take it away and tidy it up. Because Peter had not been writing anything down, not paying attention, probably completely pissed, he was none the wiser as to what he'd said and what bits I'd added.
Those Life in Pieces scripts were really good. I can't understand why the BBC have never repeated them. You can see them on YouTube. They're really original and interesting, they make me roll around laughing, still, to this day.
The concept was that Peter, as Sir Arthur Streeb-Greebling, is being interviewed by Ludovic Kennedy. We shot the two of them separately. Peter Fincham (who produced the series) actually did the interviewing of Sir Arthur, and then Ludo came in on another day and we did the other angle with him asking the questions - and then cut the two halves together.
The editing was fantastically hard because, when there's no audience, getting the comic timing right is really difficult. But we discovered that, by putting Ludo's  quizzical cutaways at just the right points, the thing could be twice as funny. Peter's performance didn't work nearly so well on its own. It's looking at Ludo going, "Really? Hmm..." that makes it really hilarious.
Some people found Cook difficult to work with, but you obviously didn't?
No, not at all. I never found Rowan Atkinson difficult either, and he's famously hard to direct. I'm told that Harry Enfield can be very difficult, but he never has been with me. Maybe it's their directors who're 'difficult'? Or maybe it's because I'm directing more as a friend and co-writer than some auteur in jodhpurs, I don't know.
When an actor and director are working well – especially if you've written and planned it together too - it doesn't feel like two people really, it feels like more one unit.
I did have one slightly alarming experience on a commercial with Spike Milligan, but even that was over in five minutes. John Cleese once yelled at me on the phone, but rang back a few moments later to apologize – he said he'd suffered 'an ego attack' – and it was fine after that.
Did you and Cook write anything else together?
We wrote a big thing for HBO, called The Dark Horse from the Grass Roots, which was a brilliant idea where he was going to stand as a politician in the American elections. We were going to go to Nebraska and make nonsensical speeches to large crowds from the back of a lorry and record their reactions. Then there would be a narrative strand, a documentary thing.
But the production executive at HBO lost faith that Peter would ever finish the script – he was a bit like Douglas in that respect – so they took it to somebody else and made a series with a different script but the same idea. Peter was very cross about that.
So Life in Pieces was the only thing that made it to air. When Peter died we were working on a much bigger thing: a sort of Sir Arthur Streeb-Greebling's History of the Universe. There were a number of ideas floating around, but sadly, for obvious reasons, it never came to anything.
The 90s: Adverts, Lifetime Achievement, Have I Got News for You
In 1990, at 38 years old, you got two Lifetime Achievement Awards –one from BAFTA and one from the RTS – and you quit making TV shows to direct adverts.
Quitting prefigured getting the awards, actually. By the end of Blackadder in 1989, I'd worked like a complete maniac for 15 years, and I was very, very tired. Still to this day I don't know what was driving me, but I'd been sort of running away from a runaway train. Then I met Sarah and got married and thought, "I'm going to have a rest now."
I'd discovered advertising two years before. I shot my first ad during Blackadder III. And I thought, why should I work 200 hours a week for ninepence when I can work a couple of months a year and be paid 15 times as much? Because I finally want to be happy, I want to have a nice life.
Early in 1990, I was doing a Dime Bar ad with Harry Enfield, where he was dressed up as a giant baby, with nappies and real babies all over the studio. My wife Sarah called up on the studio phone and said, "I'm pregnant." I couldn't believe it – I'd never thought I was going to have kids.
Later that year, at BAFTA, Blackadder won three awards on the same night (including mine). It was a complete surprise, a wonderful honour and, at that moment, it just seemed like I was the luckiest man, the happiest man that had ever been born.
I thought, "My God, I can't believe this! I've got a pregnant wife, a lifetime award, I'm not even 40 and I've got this great career behind me, I've got some money and I can do what I like, I'm free, it's fantastic."
It was kind of lucky that I got the lifetime awards after I quit. If I'd still been working in television it would have been a disaster, because I wouldn't have been able to top it. But now, in theory at least, I could really enjoy it. Actually, it turned out to be a disaster after all – the beginning of ten years of real pain and struggle, but that's another story…
Many people still love the Barclaycard ads with Rowan Atkinson – "smell those Tuareg campfires, unmistakeable."
(Laughs)
Did Barclaycard ask for the whole Blackadder team?
No, the Barclaycard ads were originally designed to be for Michael Palin, who was going to replace Alan Whicker. But the agency had got the gig without actually asking him! Mike and I were friendly, so I contacted his agent. She wrote back very sweetly that Mike doesn't want to do ads, but as it's you he'll have a look at the script. But he wasn't interested. In fact, he hadn't done an ad since 1968 or something, and had no desire to do any more.
So the agency had this huge campaign that they'd won for Barclaycard, but no star. They were absolutely appalled, because a lot of people would have lost their jobs if we hadn't solved it. So they said, "Do you know anyone else famous?" I said, yes, a few! I suggested Rowan, because we'd just done Blackadder together, he was right at the top of his game and, up to that time, he'd never done a really good ad.
So I got Rowan, his agent and the two agency guys to come round to our kitchen in Fulham. Rowan said, "Well, the scripts are a man in a white suit going round the world. It's a bit …er…Michael Palin-ish." Because the agency hadn't done much with the script; they'd just whited out 'Michael' and put 'Rowan' over the top (laughs).
We started from first principles. What does the product do, what are you trying to get across, what benefits does it have? It's for international travel, but also it's like an emergency service, your best friend when you're in trouble. So who could the main character be? An explorer, a commercial traveller – oh, a spy, that's a good idea. It was very unusual. You never normally have the star, director and agency making a ground-floor start, with no script or concept.
So the origin of it had nothing specifically to do with Blackadder, although obviously the character owes a considerable amount to that Blackadder style. Whereas the later incarnations of him, in the Johnny English movies, he's more like Mr Bean. Which it wouldn't have been if I'd been directing, but unfortunately I was fired from both Johnny English movies by the film company. I'm always being fired by film companies. They're not really my kind of people.
It seems you're always being fired from things that then turn out to be not be very good.
Well, I didn't want to say that, Alex! (laughs)
The thing is, what commonly happens is that people offer me jobs saying, "You're a comedy genius!" And I say, "No, no I'm not. A genius is someone who doesn't have to try." I'm just very hard-working and insanely dogged.
They hire me on the project then say, "No, we don't want you to have opinions or tell us what to do, or disagree with anybody, we just want you to make it really funny." I say, "Look, I don't sprinkle magic fairy dust. It won't become good by me being terribly nice to people, it comes good by fixing it. The plot isn't right and the cast isn't right..." And people hate that.
In ads, the agency often ask "How are you going to light it?" And I say, "I'm going to light it well." "Well, what genre of lighting?" But that's not the point. I'm going to light it so people don't notice it's being lit. That's what I do as a director, make myself disappear, so that people are, first of all, concentrating on what you're trying to sell them and, second of all, laughing.
So I get fired. I absolutely hate being sacked. It's caused me far more misery than I deserve, I think. I should just say, "It's their loss," but I've never been able to do that. I don't go around saying, "You see, without me, Blackadder Back and Forth wasn't very good." I just think, guys, doing things well is difficult. It's not that I'm difficult, it's doing it well that's difficult.
Also around that time, you did the pilot of Have I Got News For You, as the question master. Do you regret dropping out of the series?
I often say Angus walked off with my life, my salary and my girlfriend (laughs). No, I don't regret it. I was rather relieved to walk away. I didn't like reading the autocue or wearing clothes that somebody else had bought. I felt very uncomfortable. I don't think I did a very good job on the pilot. When I saw Angus in it, I thought he was brilliant.
I think Ian Hislop loves doing it. I'm a bit more like Ian than Angus, in the sense that Ian is not a showbiz person – you don't see him at glamorous premieres. He's a very hard-working family man who lives in the country and has great fun doing the odd bit of telly, but he's not in it for the glamour. The other part of his broadcasting career is making very low budget, extremely interesting documentaries about serious subjects. He likes both things. Ian is a tremendous contributor to the culture in all sorts of ways.
I said no to a lot of jobs in 1989 – it wasn't just HIGNFY. I turned down Head of Comedy at BBC. I was offered the anchor-man's job on The Holiday Programme, a mainstream peak-time thing – they said, "Do the studio work, then six or seven times a year you can go anywhere in the world and make a film about it." But I'd just got married and didn't fancy working that hard.
I don't think I would have liked the exposure, then. Now I can handle it, I rather like it, in fact. I've been recognised twice in the last week. I don't mind being stopped in the street at all: I genuinely like talking to ordinary people. Well, twice a week is no problem, certainly.
Museum of Curiosity, Names, CBEs
In Museum of Curiosity, are you going to have a different resident curator every series?
That's the theory, although we so liked having Dave Gorman that it's going to be very difficult to replace him. We liked Bill and Sean and Jon too, of course, they've all been terrific in very different ways.
If QI had been a radio series, does that mean there wouldn't have been a Museum Of Curiosity?
Yes, probably. So that worked out quite well, I got to have both.
You're named after your great uncle, Brigadier-General John Hardress Lloyd. Do you use 'Hardress' much?
No, never. John and Hardress are family names that have attached themselves to first-born male Lloyds since at least the beginning of the 17th century. My father's genealogical research goes right back to the town of Ardres in northern France and (or so he claimed) a bloke called D'Ardres, who came over with William the Conqueror. Or possibly it's from the ancient Welsh 'hardd', which means handsome.
Everyone in the family has hated having the name, except my son Harry. When he was born we couldn't decide what to call him. Sarah and I were still arguing about it whilst standing on the steps of the registry office on Marylebone Road.
Eventually we said, okay, we'll call him Hardress, after Dad. My Dad was really touched when we called him up and told him that Harry was going to be christened Hardress. "Oh my dear chap!" he said. "I am pleased. But the poor little bugger will be terribly teased at school, of course. I was, weren't you?" My Dad never called himself Hardress either: his friends all knew him as 'Harpy'.
But Harry has never been teased about it, in fact. He rather likes it. Things have changed now; because of multi-ethnicity (and fashion) half the people in every school have weird names. The odd one out now would be someone called 'John' like me.
You got a CBE this year. Was that for Museum and QI's educational content?
I haven't the faintest idea. "Services to broadcasting," it says. I know that quite a large number of my friends wrote to whoever it is you write to. I didn't know it was happening. I thought it was a wind-up when I was told. I'm still a bit baffled, although I do very much think of myself as a public servant. It's a real honour, I have to say. Can't deny I'm pleased.
I've done a lot, going right back to The News Quiz and helping out with things like Bean and Hitchhiker. Perhaps I should have been given it for 'services to export', considering all the people I've helped start out who've gone on to make tons of money.
Actually, the best thing was it got me mentioned in Private Eye for the first time, which is one of my proudest moments. They did a spoof New Year's Honours list and under my name it said, 'for services to bringing down the government' (laughs).
The above was just the stuff we
couldn't fit in the printed magazine.

There's loads more in Mustard #06,
where John talks in depth about
Blackadder, Spitting Image, QI,
Not the Nine O'Clock News,
Hitchhikers Guide to the Galaxy
and more!

read our main, 10-page
John Lloyd interview in
Mustard issue #06 »


Illos by
Andrew Waugh