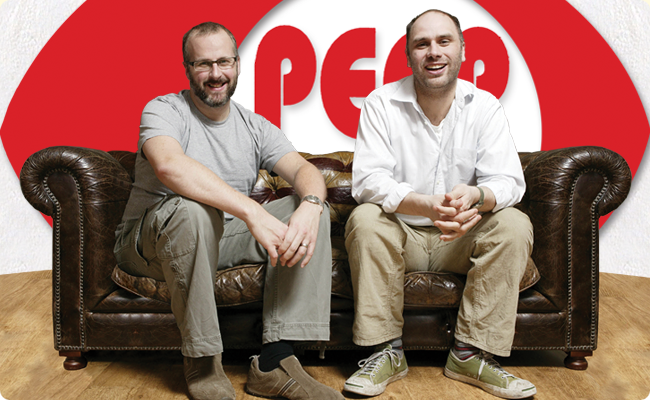 Mustard issue #03 features an exclusive interview with the Peep Show writers
Peep Show Characters - web exclusive
Sam & Jesse discuss the genesis and development of Peep Show characters
As well as the main interview, Sam & Jesse talked about the genesis, development and casting of Peep Show characters - but we only had space to print about half of these.
So here's all the character profiles that made it into the mag (that's Jeremy, Mark, Sophie, Super Hans and Johnson), plus the one's we didn't have room for (Dobby, Jeff, Toni, Nancy and Big Suze).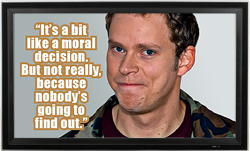 JESSE: Jeremy was sort of the first character. He came out of All Day Breakfast, the aborted BBC show we'd written with David and Rob, also about a flatshare, and with vaguely similar characters. Robert played an insufferably posh idiot. We took that character's DNA, removed his poshness and a certain heightened sense about him. We knew this was a good character, this arrogant, overconfident/underconfident guy who's overly concerned with what people think of him, thinks he's incredibly talented but isn't, but also has a thick skin about that. We knew that Rob was brilliant at playing that.
SAM: Jeremy's voiceovers are different to Mark's. I don't think they're anywhere near as realistic, they're a joke on someone who thinks he's great. A lot of the time his voiceovers are thoughts like, "I'm so amazing".
JESSE: Jeremy's the opposite of Mark, in that he's much less self-conscious.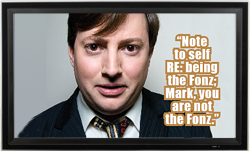 SAM: With Mark, we were basically trying to find a voice that would play off well with Jeremy. We'd written a character for another show who was very anxious and neurotic, and we thought 'this is a good voice that we haven't done much with', and it seems very appropriate to have a neurotic guy bouncing off an arrogant guy – a good match. He's kind of an old man, also. And in that previous show we worked on with David and Robert, David's character was quite a worker bee, a guy who aspired to being a suited member of the business community, so we fitted that into it too.
JESSE: Mark emerged out of the first bits of internal monologue we'd written for a character, a guy observing the minutiae of life, this hyper-observant, self-dissecting person. All those characteristics of Mark that we've come to love were built around that central consciousness. Which is why Mark's always been very good to write internal monologues for; because that's how he started out. Mark's a more self-conscious character, and there's not a lot of characters in comedy who are as self-conscious as he is. There's David Brent, perhaps. He realises, too late, what he's saying and tries to self correct. I don't know whether that's self-consciousness or self-awareness. But normally it's hard to do, because you can't just have people speaking their brains. Unless you have a performance that nails it, self-awareness is death to comedy. Self-conscious people don't tend to... blurt things out. That's why writing voiceovers has been key to getting Mark's character.
SAM: Our internal-monologue technique has given us a whole other way of doing it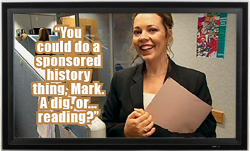 SAM: We were given a lovely gift, the gift of Olivia Colman. We said to Dave and Rob, we need a woman for this pilot, do you know any women? Who are brilliant actresses? They said yes, we do, and introduced us to Olivia. We were so lucky to have our three core cast in place before anything had been filmed, because we could write for them and around them.
JESSE: The character's been built up around Collie. If you look at the first scripts, she was mainly a foil for Mark. It was only through her good acting that there's much more there going on. Subsequently, we've found different angles to the character. She's got a malicious side, she's not entirely un-self-serving, she's a bit of a hippy, a hedonist. It's really quite fun thing to find your characters and think yeah, she might go and work in a juice bar, she might have a bit of breakdown, she probably does just want a baby now, and who's around? So we made her up as we went along.
SAM: It's fair to say, in the first series she was definitely just a foil for Mark's desires. As we carried on we had to develop her, think about her point of view.
JESSE: We asked: "what's it like to fancy someone who you don't know much about?" You idealise them, and that's all great stuff for comedy. Then you have to go past that stage – that's also great for comedy, when reality crunches in.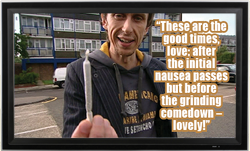 SAM: This was another casting triumph. Originally, he was going to be Dutch. It was a completely different character; this well meaning, stupid, enthusiastic Dutch lodger called Super Hans. But then we completely changed the character.
JESSE: But I'm so glad we kept the name, as it's difficult to get a good name. The character now isn't meant to be Dutch or German so it's unexplained, it's a nice mystery why it's his nickname. We did think about Super Hans in a slightly more mechanistic way – or maybe we always do this – we thought it would be great if Jeremy had someone to look up to, who was more than him at everything. More ridiculous, more stupid, more clever, more talented, less talented… super-ego, super Jeremy.
SAM: He's a foil really, for Jeremy – like Johnson is to Mark.
JESSE: Yeah, but not just a foil, a very funny character in his own right and really enhanced by the performance. Also, I remember, when we were coming up with the character, thinking that it would be good for Mark and Jeremy to have someone who, literally, has a different voice. A different sounding character, who comes from a different background, a different angle and I think it's really great to see him rub off on Mark and Jeremy and see the friction there.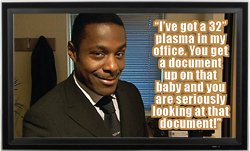 JESSE: He was a one-episode character in the first series, and we liked the way he impacted on Mark. I remember talking about using him for the second series.
SAM: We weren't that happy with the manager character from the first series, Barbara.
JESSE: She just didn't have that many jokes.
SAM: And I remember Jesse saying: "why don't we just have Johnson?" That was when 10 years of working with Jesse made good – I finally saw why I had him around!
JESSE: But Johnson was meant to be a management consultant, so how could we bring him back? It's funny, it shows how obsessive writers can be: "He's a consultant, why would he work in a loan company? He'd never get the job!" But, at a certain point, when you have a character who fits and the dynamic works... well, I'm sure he could get that job.
SAM: (laughing) I don't… I'm still against it!
JESSE: We liked that character, that bullshitting businessman – it's not an unusual voice for comedy, but it's an amazing performance, and that makes it feel different. So that's it. He came into an episode and we thought: "you're great, please stick around".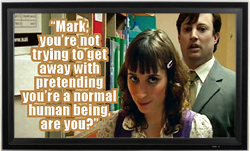 SAM: Dobby was obviously an attempt to create a new love interest for Mark and we definitely didn't want to go back to him and Sophie, we felt that we'd gone down that road, finished that route. We wanted a character who had a very particular strong voice and we liked the idea of writing a female geek. I think it's true that, if you're a man, writing female characters isn't as easy as writing male. We thought that a female geek could be very appealing for Mark, and a very good voice for a female character. We felt we could write that character pretty well, and since we're going to write more Dobby in Series Six we wanted someone who could be a continuing love interest, who might be a good match for Mark - we had ideas like them playing online fantasy games and stuff like that. Then Isy Suttie came in and she blew us away by being perfect. It really helped having her there, so we could write for her.
Dobby pt 2: Isy Suttie Interview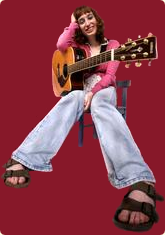 How was it acting to POV cameras?
ISY: At first it was very weird. To kiss, you have to put your mouth on a bit of gaffa tape on the bottom of the camera, where the camera's "mouth" is, then sort of smack your lips together as you finish. I got used to it eventually...
How did they do that effect of you two looking into a mirror?
ISY: It was quite technical, really. I had to look at my own reflection and flick my eyes onto David's eyes (in the mirror) a bit – I think he had to do something similar. We didn't look down the camera at all. It was terrifying looking into my own eyes and doing a sex face, and it seemed like a really long time because Dobby doesn't say much in that scene; it's mostly Mark's voiceover.
How defined was Dobby in the script?
ISY: Pretty defined. When I went for the auditions they were specific that they wanted her to be geeky but a bit quirkily cool – I hope I pulled that off! I did make up the tune and dance for the 'Jeff's doing a joke' song, though - it just said in the script "sings and does a naval style jig".
What impact has the role had?
ISY: Well, I've had a few marriage proposals. And an entire rugby team asked me to sing 'Jeff's doing a joke' for their ringtone. Peep Show fans are often real die hard fans, who genuinely love the show, so when they talk to you it's done with passion, which is great. A few people have advised me, very seriously, that Dobby and Mark should have a wizard-themed wedding in a forest.
Will Dobbie be back?
ISY: I know nothing, but she hopes so!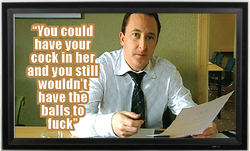 SAM: Jeff was one of the rare times where we cast the actor, Neil Fitzmaurice, without having auditioned them. Channel 4 thought he was perfect, but we hadn't seen him so were a bit unsure. But when he came in we were so pleased, because he brings something really brilliant to the character. And he was so good in Series Two, where he had a lot more to do, as Sophie's boyfriend - he has an edge to him, an aggression, but he's also such a good actor, he can give you extra dimensions, extra emotion. We got so much more than we ever expected from him.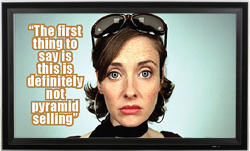 SAM: Toni was the main love interest in Series One and we really liked that voice – that very overconfident woman, kind of brisk and predatory. But the first series was her best series because we never felt we could sustain her as a love interest. The character wasn't particularly likeable and we really wanted Jeremy to have a love interest to make him more sympathetic. We never could quite believe he'd be in love with her, so we brought Nancy in who was more convincing. So Toni sort of dropped out of the series a bit. And also, in Series Three there were issues with the availability of the actress, Elizabeth, so that was the end of that character.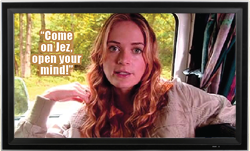 SAM: Originally, Nancy was only in one episode. We had this hippy dance class idea and she fitted it well for that. She wasn't American or anything, she wasn't technically a character at that point. But then we got a message from Channel 4 saying, in a slightly embarrassed way, that it would be nice to have a really good-looking girl in the series as a regular character. We thought, okay, we could resent that and be cynical and annoyed at the channel about that, or we could embrace it. And we already had this dancing hippy-chick character, and we liked the Christian angle, we thought that was quite edgy and interesting, so we created Nancy.
It wasn't until we got to planning Episode Six that we realised she should be foreign, because we really loved the visa-wedding storyline. American seemed right, for the sort of hippy, Californian stuff. We auditioned some really good female actors who were either American or could do the accent and we got very close to casting one, but Iain Morris from C4 was very insistent we go to America to cast, to get someone authentic. We got Rachel that way, she's Canadian and has an English dad. It was an odd thing having this stunningly beautiful American in this grubby flat in Croydon. I think it worked. She was not of their world and I think that was a good thing, not a bad thing.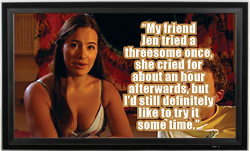 SAM: Big Suze was created to replace Nancy in Series Three. We had already written six episodes with Nancy, but then Rachel Blanchard wasn't available. So we had to figure that one out, and our best idea was to create a new character who could effectively replace Nancy in the existing storyline, so we didn't have to start from scratch.
We already had this name, 'Big Suze', that we'd mentioned in a previous episode, just a throwaway joke about an ex-girlfriend of Jeremy's. So we thought she's the obvious candidate, and we auditioned actors using the Nancy dialogue that we'd already written for Rachel Blanchard, to see who would present themselves as someone we could write for – we always like to write for actors rather than writing characters blind. Anyway, Sophie Winkleman turned up and she had a totally different thing going on. She was very beautiful, which helps as that's one of the key things about the character; Jeremy's in love with her and obsessed by her. But she had this unique persona and we liked the very posh thing and her whole manner seemed very funny and very original to us.

Read More
There's lots more! To read the full, exclusive eight-page interview with Peep Show writers Sam Bain and Jesse Armstrong (part of a 36-page comedy mag crammed with funny words and pictures), buy Mustard for just £2 ».