Alex Musson
taller than Jesus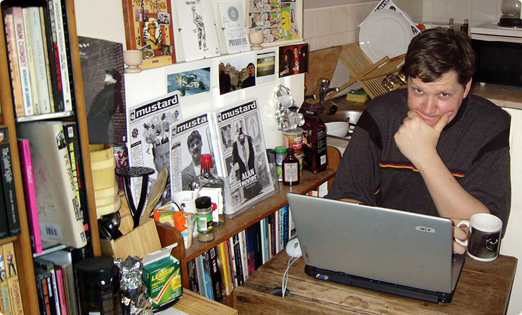 CREATOR / EDITOR / WRITER / DESIGNER / PUBLISHER / TEA-BOY
Hi, I'm Alex, creator of Mustard magazine. I edit, design and publish the mag (and this website) and write about half of each issue.
I started a black & white version of Mustard many years ago, writing and publishing the photocopied magazines in my spare time around my day-job of website design.
I also performed stand-up comedy for a couple of years (making the BBC New Talent semi-finals), did improv in a group with Isy Suttie, and wrote and performed sketches for BBC Radio 4.
Then I started the new colour, professionally printed Mustard mags that you can buy on this website and in shops. I published four of those over a year and a half before the recession hit, which killed off many indie mags and forced Mustard into hibernation for a while.
I got back into comedy writing when I was comissioned by Alan Moore to write a regular two-page column for his magazine Dodgem Logic. This reinvigorated me on the writing front and helped me build up new content, and so Mustard reappered with issue #05 – three months after the birth of my first son.
Child-rearing and the need to earn more money to support a family has kept new Mustard issues to a slower schedule. Issue #06, #07 and #08 followed, with the latter delivered on the same day as my second son. Since then I have been updating and expanding these as digital issues.
You can contact me at laugh@alexmusson.com.
My Mustard stuff:
Spoof News and Articles:
Characters & Stories
Spoof Movie Posters
Spoof Magazine Covers
Spoof Ads
Infographics
Comic strips (scripts) and cartoons
Minis / one-liners
Editorial page design and words
Cover designs and Poster designs
Interviews
The big ones
The shorter ones
Profiles
'Cult Corner' Reviews