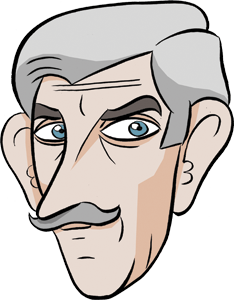 Mustard
profiles
Peter Cook
During the '60s Peter Cook blazed a trail across the British comedy scene, bringing a new breed of satire and humour to the public consciousness. Then it all went wrong.
Having seemingly burnt himself out, Cook watched lesser collaborators go on to fame and fortune whilst he attached himself to mostly doomed projects and ended up living in virtual seclusion. But his influence ranges from python to many of today's top comedians and his career featured the kind of triumphs that most comedians can only dream of.
THE COLLEGE YEARS (1957-60)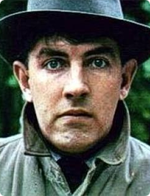 It took Cook six months to pluck up the courage to present a script to Cambridge review club Footlights, but members were hugely impressed by 'this long, thin, hesitant person with dashing, darting eyes' and he was immediately asked to join. Cook's early sketches were developments of characters and ideas honed over his school years – including monotone 'Mr Boylett' who, later renamed E.L.Wisty, was to became a regular Cook character. By the time freshmen such as John Cleese arrived at Cambridge, Cook was a legend – only dampened by the fact that a young David Frost was now ripping off his act.
BEYOND THE FRINGE (1960-64)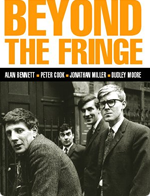 It was this stage show – starring Cook, Dudley Moore, Jonathan Miller and Alan Bennett – that was to change the face of British comedy. Supplying around two thirds of the script, Cook filled the show with flights of fantasy and biting satire. A favourite Cook target was the English authority figure, as seen in the interview with a police chief: "Who do you think may have perpetrated this awful crime?" "We believe this to be the work of thieves", and the sketch featuring a WWII officer and private: "I want you to lay down your life, Perkins. We need a futile gesture at this stage." Cook also broke rules by parodying the government – unheard of at that time. His Macmillan impersonation became so renown that the Prime Minister himself came to see it performed. Spotting him in the audience mid-sketch, Cook strayed from the rehearsed script: "When I've a spare evening there's nothing I like better than to sit listening to a group of sappy young satirists, with a stupid great grin spread all over my silly old face".
THE ESTABLISHMENT CLUB (1962-64)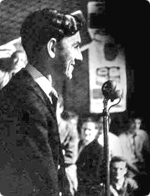 By 1962 Cook was hailed as the country's foremost satirist. Riding high on this wave, he opened The Establishment, the London comedy club he had been planning since seeing such venues in his visits to Berlin. With public theatre being censored at that time, his primary motive was to have somewhere to go 'where we could be more outrageous than we could be on stage'. Locating a ruined strip joint in Soho (Cook had to use his charms on the local criminal element to avoid their protection racket), he had it rebuilt by the Fringe's set designer. It was soon the place to be, with the cream of British comedy (Bird, Fortune, Bron and Geidt.) performing alongside guests such as Lenny Bruce. Peter mingled with celebrity clientele in the main lounge whilst Dudley wooed from the piano in the basement Jazz Bar – and on one evening the famous photo of Christine Keeler was taken on the top floor. Sadly, the club closed a few years later after Cook sold his shares.
PRIVATE EYE (1962-)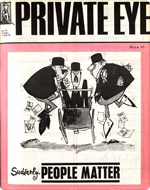 Having been beaten to the creation of a satirical magazine by Willie Rushton and Christopher Brooker's Private Eye, Cook was quick to step in and buy controlling shares when they hit financial difficulties, initially creating 'offices' in the waiter's changing room at the Establishment Club. Rather than just humour, the Eye excelled at investigative journalism, breaking the Profumo scandal and generally attacking the government, media and the like – a tradition it continues to this day.
FOLLOWED BY...
On The Braden Beat (1964)
Cook breaks into television, introducing E.L. Wisty to a nationwide audience.
NOT ONLY, BUT ALSO... (1965-70)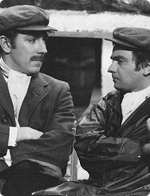 Breaking from their satire roots with this television series, Cook and Moore avoided topical subjects – thus making repeat showings more likely. As Cook told a reporter, they would 'never mention anyone over fifty in case they die'. Cook here introduced viewers to aristocratic buffoon Sir Arthur Streeb-Greebling, who would ramble on about his attempts to teach ravens to fly underwater. He also tweaked his E.L.Wisty character to become one half of the cloth-capped duo Pete 'n' Dud (pictured above). These characters would sit around pondering the meaning of life or complaining of harassment by the starlets of the time: "tap, tap, tap on the window pane: it's only bloody Greta Garbo, hangin' onto the windowsill in a see-through nightie. I had to smash her down with a broomstick". NOBA gave us inventive title sequences, guest stars including Cook's friend John Lennon and a host of classic skits such as 'THUNDERSTINGCAR!', the Gerry Anderson puppet parody. Tragically, much of the series was lost when the BBC decided to record over all of the tapes.
BEDAZZLED (1967)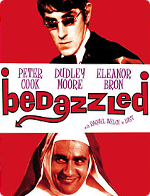 Cook scripted this Faust update, staring Dudley as a good hearted but insecure man who sells his soul to the Devil (Cook, of course) in return for seven chances at winning the girl of his dreams. Cook, at the height of his powers, plays Satan as petty, bored and bitter: "I've lost my spark. I thought up the seven deadly sins in one afternoon – all I've come up with recently is advertising." The film, packed full of theological debate, was too bizarre for the public and failed to make a splash at the box office. However, although slightly uneven, the film contains many wonderful moments and has become something of a cult classic.
FOLLOWED BY...
Where Do I Sit? (1971)
Infamous Cookhosted chat show, cancelled after just three shows – Cook's first real taste of failure.
Behind The Fridge / Good Evening (1971-75)
Cook and Moore tour Australia, New Zealand, UK and then America with this awardwinning stage show.
DEREK & CLIVE (1976-78)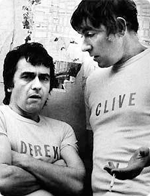 Featuring Cook and Moore playing foulmouthed, bitter, and often very funny variations of their Pete 'n' Dud characters, these improvised audio sessions were originally not intended for broadcast. Cook had persuaded Dudley to – 'just for fun' – try and recreate the scatological conversations they'd had during their long journeys whilst on tour. Moore was shocked when Cook then launched into a routine called 'the worst job I've ever had', which he claimed had been 'retrieving lobsters from Jane Mansfield's bum'. When copies of the tapes started doing a roaring trade on the black market, the duo went on to record three albums and a video of increasing obscenity. Classic sketches included the selfexplanatory 'Winky Wanky Woo' and 'This Bloke Came up to Me', in essence a hilarious list of expletives uttered in meaningless aggression.
FOLLOWED BY...
Revolver (1978) - a punk music show on ITV hosted by a subversive Cook.
Several charity concerts (76,77,79,89)
At the 1979 Secret Policeman's Ball, he performed 'Entirely A Matter For You', a satire of the judge's summing up at the Jeremy Thorpe trial. This was proclaimed to be his best work for years.
Peter Cook & Co (1980)
Cook's first major solo television show, with performances by John Cleese, Terry Jones and Rowan Atkinson. Could have been a series but, alas, he went to the US to make...
The Two Of Us (1981-82)
US version of Two's Company with Cook in the butler role. Utter shit.
The Black Adder (1983)
Brilliant Cook cameo as Richard III in the first episode.
Saturday Live (1986)
Cook hosts this Channel 4 alternative comedy show.
Mr. Jolly Lives Next Door (1988)
Cook took the title role as a hired killer in this Comic Strip film.
SVEN (1988-92)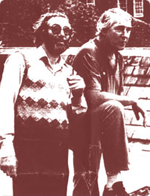 Bored and suffering from insomnia, Cook took to calling a local early morning radio show incognito, under the guise of 'Sven', a Norwegian fisherman. These calls were often tinged with sadness, detailing Sven's obsession with fish and his lack of success with women. "Just as an icebreaker I went up to her with some socks and underwear. And she burnt them. She does not understand Norwegian humour."
SIR ARTHUR STREEB-GREEBLING (1991 & 94)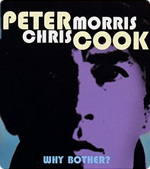 In 'A Life In Pieces' Cook was interviewed by Ludovic Kennedy as one of his oldest characters, Sir Arthur Streeb-Greebling. This was received reasonably well and led on to a series of interviews with Chris Morris called 'Why Bother', where, as Sir Arthur, he reminisces about his life: "There were moments where I thought, I've had a long life, I've had a very good life... and... I've had just about enough of it really." Morris was a performer able to match Cook for speed of thought and invention, which gave the programmes a real edge.
CLIVE ANDERSON SPECIAL (1993)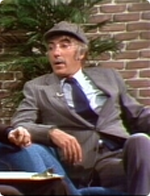 His spirits buoyed after the successful launch of the video 'Derek and Clive Get the Horn', Cook came up with the idea of a special edition of Clive Anderson's chat show in which all four guests would be fictional characters played by himself. First up was an E.L.Wisty-esque figure who believed he had been abducted by aliens. Then followed a wonderfully observed, clichespouting football manger: "I can look myself in the mirror in the morning and say: there is a man". Thirdly there was an overenthusiastic judge (in the mould of Sir Arthur Streeb-Greebling) who had been suspended for shooting a defendant in court. Finally there was a recovering alcoholic rock star who had recently emerged from treatment from the Henry Ford clinic: "it's much tougher than Betty Ford – you have to build a car before you can get out". This was fantastically well received and led to much renewed interest in Cook as a writer and performer – all of which went a bit skewiff when, on 9 January 1995, Peter Cook died.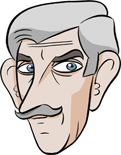 Originally published in Mustard #08
~ more Mustard interviews & profiles ~