Craig Hinton
Time Lord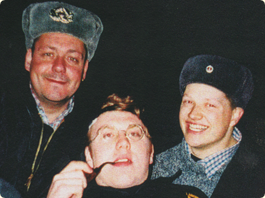 Craig Hinton, Scott and me, on the roof of my student flat in Coventry, 1995
I worked with Craig while I was doing my University work experience at IBM in Warwick. Bonding over a shared love of comic books, we kept in touch after I left.
I stayed with him and his flatmate when I first moved to London, where they introduced me to Babylon 5 and constantly ridiculed me for being hetrosexual: "it's just not normal I tell you!".
Craig put me in the dedications of his best-loved Dr Who novel, Millenial Rites. I finally got to return the favour with issue #04 of Mustard, featuring the interview with comic book legend Alan Moore.