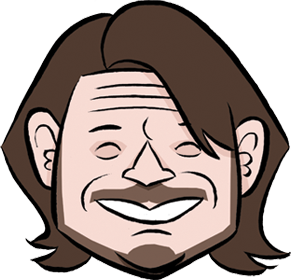 Mustard
interview
Richard Herring
The comedian, writer and internet comedy pioneer talks Lee & Herring, stand-up, sitcoms, podcasts and vodcasts. Plus his controversial Stephen Fry interview, giving stuff away for free, his Metro column and growing a Hitler moustache.
~ 7,800 words ~
Originally published in Mustard #05
b
Print sold out
Digital edition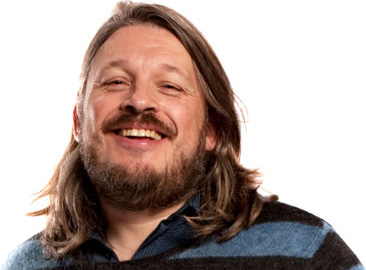 Part I:

Metro columns and Warming Up blogs

Has your Metro column increased gig attendance?

Not hugely. A massive number of people see the Metro every week so you'd think it would have had a big impact, but I don't think there's a huge crossover in Metro readers and people who go to comedy gigs.

Actually, my audience numbers have levelled off in the last couple of years. There are 110 comedians on tour at the same time as me. Even the most extreme comedy fan is only going to see twenty comedians in a six month period - and I don't know if I'd be in the top fifth of comedians I'd go to see! (laughs) So with that kind of competition, if I can just carry on making a living from it that's good enough for me.

However, the Metro column does seem to get me recognised in the street more than anything else I do.

Do you get recognised a lot?

I can walk down the street largely untroubled most of the time, and maybe once a week someone will say, "Hey, you're that guy from that thing that I liked". Which is a nice situation to be in, because when I've been on TV someone will say, "You're that bloke from TV and I'm going to smash your face in". (laughs)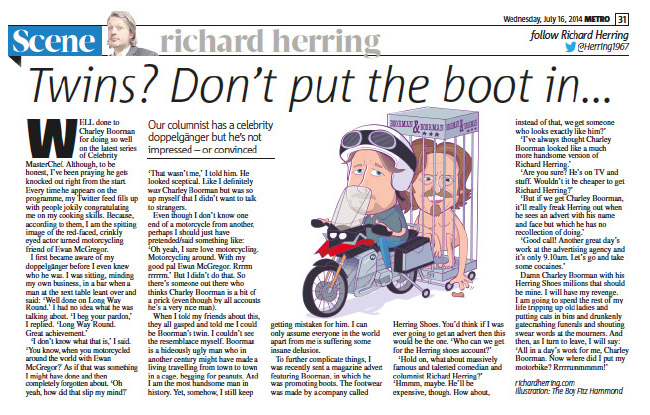 You've been writing Warming Up, your daily blog, since 2002. Does it provide inspiration for Metro columns?
Yeah, having written seven blogs in a week, hopefully one of them will be good enough to turn into a Metro column. But if not, there's four thousand older blogs that I can have a look at. Sometimes I come across something that I'd completely forgotten about and I think there might be a column in it, but it's obviously impractical to go and trawl through it all.
And then, for this year's Edinburgh show I took a lot of the Metro articles and turned them into routines. A six hundred word article is quite a good length for a routine. It's enough time to explore something, but you also have to be quite succinct. Sometimes they work almost as written, and sometimes you mess around with them and find new bits and pieces, or you test them and they get shorter.
It's rare that I write a Metro column that hasn't started as a blog or perhaps an old bit of that I've adapted. I did go through a period where I found it quite hard to think of subjects, but the deadline means that usually something pops out. Once you set your mind to a subject it's just about making it work, which sometimes takes ages but other times I'll knock it off in half an hour. I'm trying to get a little bit ahead with them as well, so that when the baby arrives I can just queue them up.
Are some things suitable for one audience but not another?
Yeah, I'm aware that in Metro I'm not talking to the same audience who would listen to my podcast or who would come and see me live. It's slightly more mainstream. I've tried to push the envelope a bit and get into slightly risqué subjects or controversial ideas, but sort of slipping them under the radar so they still work.
The column also has the weekly, topical feel to it, like the blog, so it's interesting to deal with stuff that's happening to you – the soap opera element. For example, I might not be doing much stand up about having a baby, but it's a good subject for the Metro column.
Do you try and make them topical?
Yes, but I have to write them a week in advance, to give the illustrator time. So I can't be ultra-topical, and I have to just hope that it's still relevant and that nobody else writes about it by this time next week. Occasionally I can cut it a bit tighter, so if something were to happen on Monday that I wanted to write about, they could still manage to turn it around in time.
Stew and I both went through wilderness periods for a couple of years. The blog helped me to re-find who I wanted to be on stage.
Tell us a bit about the book collections of Warming Up.
Originally, I'd tried to turn the blog into a sitcom: 'the story of a comedian's everyday life', but unfortunately that got pole-axed when Lead Balloon came out. So, after I gave up drinking and suddenly had a burst of creative energy, I put the book together.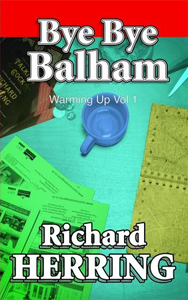 Go Faster Stripe, the indie publishers who do my DVDs, printed 2,000 copies of the first book, Bye Bye Balham. That covered the first six months, plus new notes and comments to add context or talk about things I didn't want to say at the time.
For example, at one point I was writing a film script based on comedian Glen Wool's routine about how he got a spot on the end of his cock and he had to get a biopsy. And while I was writing the script the same thing happened to me! I had to have a biopsy and stitches, the doctors couldn't work out what it was, all exactly as in the script. It was really freaky. At the time this was going on it felt way too personal, but now time has passed I've added that in.
How has the blog affected your other work?
In stand-up there are things that I take months to build up the courage to talk about, but with the blog you have to make that decision right away. It's made me think I should be more honest in the blog. The only worry is those slightly mental people who become a bit obsessed. The blog gives them the idea that they're your friend, that they're in your life.
But the blog was really helpful. If I hadn't done it, my life and career would have turned out a lot differently.
In what way?
Well, I don't think I'd have gone back to doing stand-up. The blog is a great way of generating ideas. Even if you forget them, you can go back and think 'Oh yeah, that might work'. It kept me writing, made me much better as a writer, and it reminds people you exist! I was at a point where [Edinburgh show] Talking Cock had finished and I'd just come off writing Al Murray's sitcom, Time Gentlemen Please, and was faced with a gaping chasm.
Time Gentlemen Please came so quickly after the end of This Morning With Richard Not Judy that I hadn't had time to think about how that had ended, and that me and Stewart Lee's double act had essentially ended.
Stew and I both went through wilderness periods for a couple of years where we tried to come to terms with the shift in our position, and what we were going to do next. It was easier for him, because he'd been doing stand-up all the time, and his double act character was the same as his stand-up. I had to sort of reinvent myself, so I think the blog helped me to re-find who I wanted to be on stage.
We'd been working so hard, and really caring about what we did. Suddenly part of me was going 'Well, why am I working so hard when nothing I am doing is gaining me any kind of recognition? Bollocks to it, I'm going to go out and get drunk and chase girls and whatever, and not work'. I was quite bitter.
How do you feel now?
I've got it much more in perspective. And a lot of comedy people and fans appreciate what I am doing, which is great. In the end that's better than anything. Going around the comedy circuit, a lot of younger comedians tell me that they have been inspired by me and Stew, which is really lovely. But it just took me a little while. It's interesting, because Stew's now had that critical acclaim that Lee and Herring never got. We've had this 10-year delay where some of our fans from then are now in charge of stuff, and are giving us work, giving us kudos.
Part II:

Stand Up Shows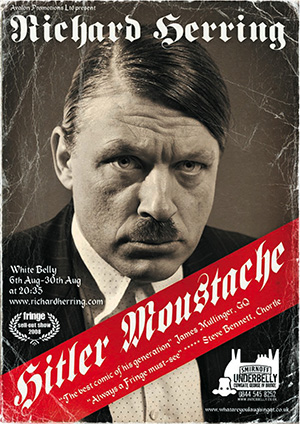 So you're happy doing stand-up now?
I find stand-up so fascinating. You keep learning all the time. When you're really on it, it's like spinning plates – there's so many things to think about; the material, dealing with the audience, the pace, your facial expression, the speed you're going, tone, pauses, everything. When you get it all exactly right it's an amazing, amazing thing.
Your Edinburgh show Headmaster's Son had great reviews. . .
I never really had a five-star review until Headmaster's Son on Chortle. That review is a big thing for me because I respect Steve Bennett's opinion – he doesn't throw around those five stars.
Reviews come in during the first few days, so shows have to be good right from the beginning. Often they're just not ready when you first get to Edinburgh and it takes a few days to get it really slick. But with Headmaster's Son I'd done about 50 previews and I really had it nailed.
Tell me about the show where you dated 50 women in 50 days.
That was The 12 Tasks of Hercules Terrace. I was hardly doing anything else apart from that show for about 6-7 months. The bit where I date 50 women in 50 days cost me £5k. All for a 12th of a one-hour show, and I ended up not really using much of it, due to time and not wanting to talk about any of the girls. That was 50 straight days of getting drunk, organising stuff, sleeping, getting up going out... it was a terrible, brilliant idea – a bit of heaven and hell.
It was my least successful Edinburgh show. It felt like a big step backwards, but it made me pull myself together. I thought a) what I'm doing is essentially stand-up; and b) why am I scared of doing stand-up?
It was a terrible, brilliant idea
– a bit of heaven and hell.
What gave you the idea for your show Hitler Moustache, and what was the response?
The idea came out of a Collings and Herrin podcast. I was away writing in a remote cottage and Andrew was going to come out to stay the night and do a podcast. With all the homoerotic tension that I attempt to cultivate, I thought it would be quite funny to shave down to a Freddie Mercury-style moustache and see how he responded.
We ended up discussing what would be the weirdest moustache to have, and decided it would be a Hitler one. This got me thinking about why this moustache is no longer allowed and what would happen if I grew one. I had some ideas for material about racism and prejudice and this seemed the obvious hook for the show.
The strangest reaction was the lack of one. I'd expected to get into trouble, or at least get a lot of comments, but I was ignored by the vast majority of people. Although a white van man congratulated me and told me I was a man after his own heart, which was the most sinister and unpleasant moment of the year.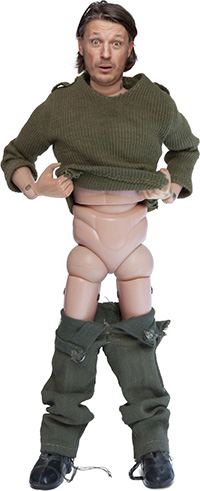 Your Edinburgh shows also raise money for Scope, how did you get involved with them?
In 2004 I wanted to run the marathon and my friend was doing it with Scope, who get you a free place, so it was really just that. And I'm friends with the comedian Francesca Martinez, who has cerebral palsy, so there's a vague connection there.
Then I wanted to do a charity collection at the end of my Talking Cock Edinburgh show, and I was thinking about how festival programmes are usually a rip off. They're like 20p to make, so when someone's charging five quid for a programme full of adverts, they're totally ripping off their audience.
So I decided to give out free programmes and then ask them to donate to an Edinburgh charity, and I wanted it to be for testicular cancer. But Macmillan said that they didn't want to be associated with the show (laughs), even when I showed them the good reviews.
So because I'd run the marathon for Scope, I asked them and they said yes, and so I just got involved from there on in. I think I've raised over a quarter of a million pounds over the ten years that I've been doing it now.
There's a very canny woman at Scope called Vivian Elliot who kept on inviting me to things and getting me more involved. It's an interesting charity to be involved in, because I think comedy's got quite a bad reputation towards disability. But Francesca shows that there is definitely comedy within disability. And I think that, even for a non-disabled person, it's fine to joke about disability if you're doing it in the right way and with the right target.
Also, having been involved in access campaigns, you realise the extent to which disabled people are marginalised. Y'know, we're all going to be disabled one day, we're all going to need access to places, so it's kind of odd that we don't think about this stuff.
It's not one of those cool or trendy charities that people are throwing money at, so I think it's a good thing to be involved in.
Scope have been very good to me. I was invited to their Christmas play when I was going through a bit of a tough time and it just made me pull myself together. Seeing the kids do the play really moved me, in a human way rather than in a ridiculous Love Actually way. Thinking about my own preconceptions of disability and realising how lucky I am, and how my life was sort of going in the wrong direction.
So audiences get a free programme, I, self-interestedly, get articles in it advertising me, and Scope make loads of money and get some recognition. Everyone wins, which is nice.
Part III:

Lee & Herring

Was it difficult to have a career that ascended early and then stalled for a bit?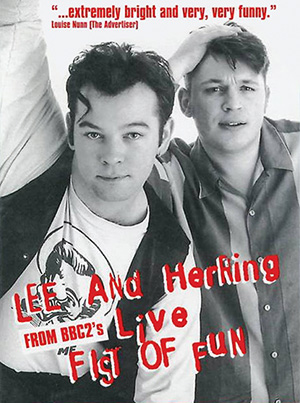 If Stew and I'd been more successful, we could have coasted. Some people who have a massive hit early in their career keep getting work for a long time, even if they're producing rubbish, because the industry think 'We'll make everything this famous person does. ' We never got to that level.
So more freedom but less money?
Well, I look at Lee & Herring compared to Lucas & Walliams – we were doing very similar stuff. This Morning With Richard Not Judy would never have been Little Britain, but if we'd had one more series we could've been over the parapet and coasting down the hill. But it wouldn't have been good for us. Stew might have gone insane with the attention and I might have gone the other way.
In many ways I think: 'Thank God it didn't happen to us'. Although it would have been nice to have got some recognition for the work we did. These days we're often discussed as if we were a massive thing, but we weren't.
Fist of Fun and This Morning were important to a lot of 10-12 year olds. Not many people came when we toured, because they weren't allowed out! But now I'm getting letters from 20-25 year olds saying 'I used to run home from Sunday school to watch This Morning and it made me an atheist!' [laughs].
It's quite cool. Probably youth culture wasn't big enough to boost something in those days, and we just fell down the cracks a little bit. Although it was amazing to get our own Thursday night sketch show, with a proper budget.
Do you watch Stew's live shows?
I don't, just to make sure we do keep stuff as different as possible, though we actually end up doing similar stuff!
Are you both better stand-ups now?
Yeah, I think so. We've been successful enough to get to a place where we've been experimenting, and to have known what it feels like to have failed and be kicked out of the door. It makes you better as a comedian and writer. Failure is much funnier than success.
To have known failure and been kicked out of the door makes you a better comedian and writer.
How was it revisiting Fist of Fun to do the DVD commentary tracks?
It was interesting. I think I'd always felt slightly aggrieved that things hadn't gone better for the show, that the BBC hadn't really stuck behind us.
But watching the second series I could understand why it didn't get renewed. Not that it was entirely our fault, because they did rush us into the second series and then interfered a lot. There's lots of really funny stuff in it, much of it better than the first series, but they changed the structure. Series one looked like an anarchic kids show, and they were worried that was putting off older viewers, so we had to change it. But I think that was a mistake.
I doesn't feel like me when I watch it. That young man. I can scarcely remember it. I don't know, I think it felt quite good to realise that it maybe wasn't quite as amazing as I thought it was (laughs). That we can sort of leave it behind.
I also wanted to put them out because I got fed up of people asking when they'll be out on DVD (laughs). I don't really care about making money, because there isn't really any. I think they made us a little bit of money in the end, but they cost so much to make and put out that it's a massive financial risk. But I still would rather lose a bit of money and be able to say to people, "Yes, you can get that on DVD if you want to".
For me it's very important that things go out, warts and all. It's the journey, seeing who we've become and the mistakes we've made as well as the good stuff. The BBC wanted to take a few things out of Fist of Fun series two. They bizarrely made us remove a few things because of accidentally now-topical references. They got very fidgety and cut a few jokes, some very minor things. But it's strange what they've left in – although I won't say what, in case they read this and want to start cutting again!
It's weird, because it was a difficult time, making Fist of Fun. We worked really hard and we were very much in each other's pockets all the time. Revisiting it reminds me that, as much as loads of great stuff came from working with all those people, I'm much happier now doing stuff on my own.
Are you going to bring out This Morning with Richard Not Judy?
Unfortunately, for various reasons, we're not going to be able to bring that out on DVD. I've been rewatching a bit of This Morning, and there are bits that really stand out. It feels like a very bold and anarchic show to have been on live – I don't think you'd get away with it now.
But I also feel like it's not my position, as a near fifty-year-old, to judge what we did when we were thirty. If, when we were doing that show in 1999, a fifty-year-old had said "take this bit out, we don't like it", I don't think I would have listened to him, even if it turned out to be me from the future (laughs).
What were the pros and cons of working with a comedy partner?
It's good to bounce ideas off someone else, plus having to meet up with someone means you're more likely to get stuff done and not slack off – though Stew was often very late.
But a lot of time is wasted arguing over stuff, often when neither of you is wrong. Good ideas can get squashed due to bad moods or petty squabbles.
I suspect that now we're older Stew and me would be less precious and argumentative and cut each other more slack. I loved the double act, and whilst we might get together again at some point in the future, I think we both prefer the autonomy of solo writing.
Part IV:

The Pub Landlord, Time Gentlemen Please and Little Britain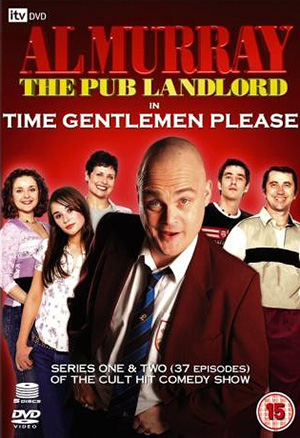 Was writing a sitcom, Time Gentlemen Please, difficult after writing sketches?
Well, I'd already written a few plays and sitcom scripts. I've always been quite good at that story through-line, with characters and structure. A sketch is just a quick sitcom; it's harder to do, really. To move up to a 25-minute episode isn't way beyond that, and I had the advantage of the Pub Landlord character already being fully formed.
I liked writing the show, but it burnt me out completely. I wrote about 90% of the entire run. Stew wrote a couple of the first series episodes, which I rewrote.
The first series was 13 episodes but halfway through they gave us another 9. So I had to write 10 episodes in 9 weeks! It took over my life. I was going out with one of the actresses in the show too [Julia Sawalha], so it was my whole life.
I was getting paid a lot. What would have been an incredible month's wages I got in a week. I bought a brand new car for less than one week's wage. But I was working ludicrously hard. I basically wrote an American-style sitcom pretty much on my own. I came up with all the plots and most of the peripheral characters. Watching it again now, I'm very proud of the scripts. I can't quite believe I had anything to do with it. It was a little gem of a show that no one ever found.
Maybe that's my destiny – getting nearly there with stuff. There are loads of things that I've written that have never been made. But you've got to get over that pride and self-pity. I can complain, but I'm in the wonderful position of being paid to write scripts, even if they don't get made. I've got a book deal. How many writers would love to be in this position? But you do think about that alternate universe where the shows got made.
With Stew getting a TV series and that recognition now, some people say to me, 'Oh, that must be awful for you', but actually it gives you hope that if you're good you'll come through.
You mentioned Little Britain earlier, didn't you script edit for them?
Yeah, I script edited the third series – which involved doing almost nothing. I gave them a few pointers. About two things I said got into scripts, but they knew what they were doing by then.
Their Rock Profiles was one of the funniest things that's ever been on TV and the first series of Little Britain was terrific. But it's the law of diminishing returns – they were in a really difficult position in the third series, trying to please the people who wanted to see the same thing over and over again and to bring in new stuff.
And the American series... why? If I was in that position I'd do the things I wanted to do rather than keep on churning out the thing that made me successful. I suppose, if hundreds of people's careers depend on you, and you're being told you have to just do this and then you'll be able to do what you want... well, I hope I'd still try and make something really good, but you've also got to be allowed to fail.
If I made the money Little Britain did, I wouldn't even go to the BBC any more. I'd make stuff myself, put it on the internet and then sell it to the BBC.
Part V:

Giving away stuff for free

A lot of your podcasts, and even some DVDs are free; what's the balance between giving things away versus making a living from it?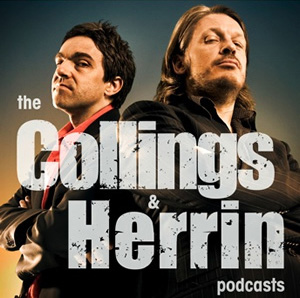 Well, I just realised I'd rather do stuff than not do stuff. I got fed up of writing things that didn't get made, having ideas that no one wanted to do, or if they did want to do, would take years. I was a guest recently on a radio panel show that's taken two years from pilot to first series.
So I just thought, time's passing by, I'd rather be doing things and getting them out there, and maybe people will hear it and I'll get some work out of it. I didn't really think of it as a massive inhibition. With the Collings & Herrin podcasts it was just fun to meet up with a mate once a week and dick around and put that out. It was only subsequently that I realised that maybe someone would give us a radio show if we could prove ourselves - which did happen in the end, we did a 6 Music show for a year.
But we soon realised that it was a great way to reach a new audience, to remind people that you existed and advertise what else you're doing. So, that wasn't my business plan at first but it's become part of it.
Over the last five or six years, 80% of
the stuff I've done was for free.
Many podcasts feature advertising – have you considered it?
I have had offers, but not for enough money to make it worth looking like I'd sold out. If someone offered half a million I would certainly have to think about it, because I could use that money to create a lot of new stuff. But if it's just five or ten thousand pounds it wouldn't be worth it, because some of the audience would resent it and advertisers might want to censor content.
Also, if it's worth ten grand to a company to advertise on my podcast, then surely its worth that for me to advertise myself, saying: this is what I do, here's where I'm on tour, here are my DVDs – and if you want to help me make more stuff, then donate a pound or so, whatever you think it's worth.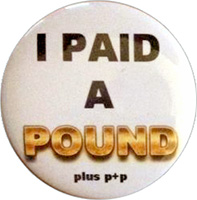 Do listeners donate much?
Only a tiny amount. I'm sort of amazed how small a percentage do the 'buy a badge for a pound' donation, but the bigger the audience, the more significant that tiny percentage becomes. Even one or two percent of 150,000 people giving a pound a month approaches a feasible amount of money to start making other stuff with. Plus, new people might come and see you live, or buy DVDs.
It's hard to quantify, but if you're doing good stuff and people like it, eventually they say, "I've listened for eight years now, I'm gonna give you a pound" (laughs). If every listener gave a pound a year, we could make sitcoms, we could make films, proper films. The challenge is getting people to understand that, if you like all these blogs or podcasts, give us the price of a cup of coffee and we can make something bigger that you would then get to hear for free.
There aren't many professional comedians doing the free model.
Over the last five or six years, I've been working pretty much seven days a week and I'd say that 80% of stuff I do is for free (laughs). I've taken a lot of risks, and last year I lost some money, but other years I've done better than ever before.
The internet feels like the movie industry in the 1910's. Charlie Chaplin became a millionaire in two years by charging everyone a dime to see his films. The potential is there for the right people to grasp it. If I was ten years younger I might be able to do a lot more with it.
I'm sort of surprised how much I'm out on a limb doing this, just working alone. Having quite a blasé attitude towards money has been helpful, because a lot of people say, "I'm not working for free", and that's the end of it. Whereas I don't care. I risked about 25k putting Meaning of Life together. But then I will suddenly get paid a large sum of money for doing something else, so as long as I can keep my family provided for, I'd rather use that money to create new stuff.
I'm writing scripts for TV that aren't getting made, but I think, well, in another two or three years maybe I'll write slightly simpler versions and be able to just make them myself. It doesn't feel like I'm miles away from that point.
But without TV exposure, I'm in a precarious position. DVD sales are dropping because people don't really buy DVDs anymore. So if the live sales drop off, or if I do another couple of projects that don't make their money back, I'd be in trouble. I just have to keep on delivering the goods and hoping that people will keep coming and bring their friends.
I'm in a demanding but incredibly lucky position, where I have to keep producing good stuff but I'm also completely in charge of what I'm doing. It's exciting and terrifying. If the tour just breaks even, I'll have worked for six months for no money. That's quite scary, but I think we'll be alright, we'll see. Time Gentlemen Please, all those years ago, has given me a financial base, and I can always move to a smaller house or flat if things go badly wrong.
Part VI:

Podcasts and Vodcasts

What are the pros and cons of podcasting as opposed to stand-up?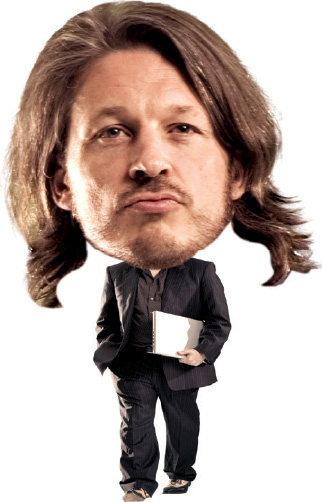 Podcasting is generally a bit easier. A stand up show takes two or three months of development to get it to a state where I'm happy to premiere it. I will improvise around it a bit, within the show, but it's very much like a performance.
Whereas many of my podcasts require no preparation at all. I just do whatever occurs to me as I'm doing it. Even for the comedy interviews, I will just read up on the person and have a think about it on the day.
If I had to choose, I would do stand-up over podcast. I love writing and touring. But I need the podcasts to keep the stand-up audience coming, and I also need the variety. If I get stuck doing one thing I get a bit crazy or bored. Writing all the time can get lonely and depressing. I've just done my first gig in six weeks, and I loved it, I need that outlet to go and perform. But if I'm doing fourteen gigs in fourteen days, it's too much.
It's all about finding the right balance, and I've got that very wrong in the past. I've concentrated much too much on work and not enough on life. But I've also got myself into a position where, in my fifties, I can hopefully pick and choose a lot more.
Doing podcasts as well as stand up allows me to test different comedic muscles. The more I do comedy, the more I want to be good at as many elements as I can. A lot of comedians concentrate on one thing, and then decide that that's all they can do, but I want to try and get good at everything.
I'm not good at observational comedy so it would be good to do a bit more of that. I don't do slapstick, so maybe I should find a way of doing more physical comedy. It's hard to find originality in those things, but that doesn't mean it's impossible. I managed to do a whole show about cock jokes which I think had a degree of originality (laughs).
Is there a crossover in your stand up and podcast audiences?
Podcast audiences might be surprised if they came and saw my stand up, in that they're a bit more assured and thoughtful, but then a stand-up audience might come to the podcast and think "what's all this dicking around?".
But I've always wanted to surprise people. With my stand up shows I'm doing a different kind of show most years. There's no guarantee you'll like every show I do, because I will change direction, a little bit at least. Which may be a bad thing in terms of building an audience but is important in terms of being creatively interesting.
Certainly if you took all the things I'm doing, I don't think there's many people who love all of them. I can't imagine there's a massive Venn diagram crossover of the Metro column and the snooker podcast.
I'm happy being an acquired taste that lots of people don't know about. I joke in the show that the audience are keeping me secret because they don't want to share me (laughs).
A lot of comedy fans think that if you're not on TV then you're not any good. Then if they see someone who's better than some people they've seen on TV, or better than they expected, they're confused and ask why you aren't on TV. So that can be a hurdle, but it's also really nice to surprise people. Even a lot of serious comedy fans wouldn't have any idea who I am.
Really, do you think so?
Well, maybe not the really serious fans, but a lot of fans aren't aware of people like, say, Simon Munnery. Ross Noble just toured until everyone knew who he was. He doesn't really do TV, nor does Daniel Kitson. If live performance is the most important thing to you, you can do it but you've got to really work at it. When I first did stand-up, I always wanted to be on TV and radio, and it's only in the last 10 years I've come anywhere near thinking the live stuff is what I'm interested in doing.
There are hundreds of comedians on the circuit who aren't known to the TV watching audience. There's so many people touring, and if you have time to see either someone off the telly or someone you've never heard of, most people are going to go for the one that they know. The interview podcasts are about introducing new comedians to people. I want comedy fans to go out and see great comedy.
With my podcasts and vodcasts, the audience are the commissioning editors.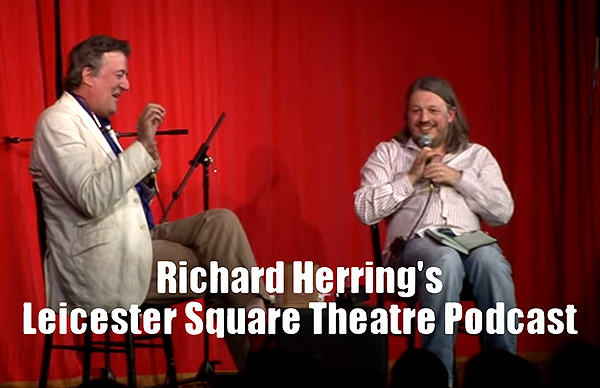 Your Leicester Square Theatre Podcast interviews are very successful: what's the attraction of the comedian-interviewing-other-comedians format?
I think the audience and the guest know that I will ask questions that wouldn't usually be asked. You also get to hear someone talk for fifteen minutes about something, without being edited down. I think I'm quite good at chatting with different people, to let someone talk all the time if that's what they're like, but driving the conversation or joining in if I need to.
There's an element of trust with the guest, they know they're not going to be get misrepresented. I tell everyone that if they say something that they don't want put out, we won't put it out. Which hardly ever happens. They know they're gonna have a sympathetic audience, they know I'm not there to trip them up or trick them, that I'm their friend – but that doesn't mean I won't be rude to them!
With most chat shows you get a researcher ringing you up to ask, "Can we talk about this, what about that?" So you'll have rehearsed your story and it'll come out very practiced. On my interviews I don't prep them at all, which forces them to improvise, so you get stories that you won't get anywhere else.
Hopefully, having two funny people on stage you trust each other that if one of you goes dry the other one will save it. Given that we put pretty much everything out, I think the hit rate is incredibly high (laughs). There's hardly any boring bits, and even those are interesting for different reasons. Because they run so long, usually over an hour, things naturally get more serious in the middle. It's very disarming for some reason, people open up.
Do you know most of your guests already?
Some of them are friends, but many I don't know at all. Hardly any of them are people I socialise with, beyond a drink after a gig or whatever. So there's a newness to it because we haven't spent loads of time talking to each other, but also a trustworthiness.
The Rufus Hound one is a great example, he talked about why he left Celebrity Juice in a very open and honest way. Peter Serafinowicz talked really interestingly about Star Wars for a long time. There's no pressure to go for the laugh.
Stephen Fry of course talked about his suicide attempt for the first time on your show. Did you know that he was going to talk about that?
No, absolutely no idea. I try not to talk to people beforehand, even a chat in the dressing room can sort of ruin things. I'd never even met Stephen Fry before. He was lovely, it was a great evening, the audience were completely behind him, and I think he made that decision in the moment because he was in a comfortable place.
It was an intensely serious and breathtaking moment, then within five minutes it was back to being really funny again. You couldn't have scripted it better than that (laughs). But he's very clever, he knows what he's doing, but I don't think he'd planned to do it, no.
And what was amazing was that nobody in that room went and Tweeted about it afterwards, nobody went to the papers. Once the show went out, of course, it was all over the papers, but in the three of four days while we were editing, nothing. It was a moment of trust and I think that's what I love about the audience, they're nice people and I think there's ways you can gauge that.
After that show, journalists started coming a bit more, and would occasionally break things before a show goes out, but it still hardly ever happens. So there's a lovely atmosphere which I think comes from the long-form conversation, which people aren't used to anymore.
What's the idea behind your Meaning of Life vodcast/podcast?
As no TV channels were interested in doing a stand up show with me, I wondered if it was possible to, essentially, make my own TV series. To see if you can leapfrog over that selection process and just do it.
It cost something like £25k to make six of them, which in TV terms is ridiculously cheap. I think you can see that it's not a TV show budget (laughs), because my autocue's on the floor – in fact I didn't have an autocue at all for the first one.
But a lot of people have got behind it. The short version of Meaning of Life is free on audio, and we've got people paying for the long versions on audio or video. I think that's covered about half the costs, and then people have been donating too. We keep forgetting to look at the figures, but I think we've pretty much broken even, except that me and Chris haven't been paid anything.
They've definitely improved as they went on. With the first one I realised we'd made mistakes and we hadn't rehearsed it enough. If that had been a TV show pilot, that would have been the end of it. But with this we could keep on doing it and make it good.
So it's sort of worked, sort of. It's coming out slowly over a long period, which makes it hard to keep your audience. And when the first one is a bit rough, will people come back months later for the second one and the third one? So it hasn't captured people's interest as much as I'd hoped. I thought the press might be more interested in this bold experiment, but like some bold experiments I did last year, I don't think it's got as much credit as it deserves.
You did win the Chortle Internet Award three times in a row.
Yeah, I've won every one they've done, I think it might even be four.
I like to give myself challenges. I think this one was a bit too much of a challenge, because I was going to write all new material and in the end that just was not practical, with all my other things as well as being on tour. But I did write a fair amount of new stuff, rejigged some lesser known stuff and added some newer bits for the stand up.
I think the fifth one's turned out as a really great show. And the long versions have loads of good extra stuff, as well as the full interview. I think it shows that, with a 50k or 100k budget for six shows, you could make something that would stand up against TV.
Part VII:

Rasputin

You're written two plays about Rasputin and came second on Celebrity Mastermind with him as your specialist subject – what's the attraction?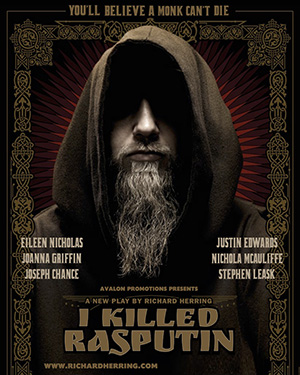 I've been obsessed with him since I first read about him as a kid. I was a very sceptical and cynical child, but also scared that I was wrong about religion and fascinated by the supernatural. So I loved all that stuff about him coming back to life.
And then as I got older I was fascinated by his drinking and womanising (laughs). And now I think it's really interesting how a guy from within living memory has become an almost mythical figure.
With I Killed Rasputin, the play I did in Edinburgh last year, I was trying to examine how everyone just accepted the ludicrous story of his death. For years journalists didn't even question it, because a posh person was telling them what had happened. But if you look at the story it's clearly, at the very least, some highly elaborated bullshit. And yet probably hiding something else entirely.
It also resonates with what's going on now, with the gap between extremely rich people and very poor people, and the way that people are still really swayed by mysticism and religion.
With both the serious and the comedic there's so much to investigate. There's something deeply comedic about the Russian revolution, even though it's dark and tragic and horrific and pretty much everyone dies. Even the story of Rasputin's botched murder is comedic.
For a while I've been rewriting the first play, Ra Ra Rasputin as a knockabout BBC sitcom about his life as though he'd written all of Boney M's music, which hasn't quite come off yet. I Killed Rasputin it was a bit more serious, but still a comedy. It's been nearly 100 years since he died, so I thought it was a good time for a play about the people that possibly killed him. But it didn't capture the zeitgeist.
Last year's Edinburgh was difficult for a lot of people. It has gotten so big, with the Free Fringe taking people on one side and the TV names taking paying people on the other. I think there's too many people in the middle trying to make things work. I'd hoped that my stand-up show would help pay for most of the costs of the play, but the stand-up show only broke even and the play lost lots of money.
I was pretty pleased with it, but out of everything I've done recently it's probably been the least successful. The reviews were okay (laughs), a couple were raving about it but mainly people not getting it. A lot of them, even the good ones, basically said, "Oh, it's bad news when a comedian decides to write a play". Which is an odd snobbishness, because so many comedians have written great plays.
I was trying to make it funny and serious, which was a deliberate choice, but some people didn't like that, they wanted it to be one or the other and not to play around with the genres. But there we go. It was done. I'm glad I did it.
I write a script or two a year and nothing gets on to the telly, so I just thought I'd rather pay to write something that will definitely get made, and I hope that people would see it and it would lead to more things. It didn't work on that level this time, but you never know what will.
Part VIII:

The Future

What's your plan now?

My ultimate ambition is to just keep working until I die. I'm not really interested in retiring. I look at Barry Cryer and that's who I'd like to be: he wrote That Was the Week That Was and he's still churning it out and having fun, because he loves comedy.

Has impending fatherhood had an influence on your comedy or your willingness to spend money?

Yeah, even last year when we were trying to get pregnant, I realised that it was probably my last year to take massive risks, like I Killed Rasputin and The Meaning of Life podcasts.

Even when I'm working for free I don't take any profit for myself, it all goes towards extra stuff. But if we start doing well I might just pay myself a fee, seeing as I'm paying everyone else involved.

So things will definitely change a little bit. Even this time last year I probably wouldn't have considered doing some commercial things, but I've had offers that maybe I will do now. So long as I use the money for good, and the thing I'm doing is good, I might make some financial compromises to provide for my family (laughs).

But I'm working in a business where, even a bad year for me would be a good year for a lot of people, so I'm not losing sight of the fact that many people bring up a family on what I sometimes get paid for one job.

As I'm approaching my fifties I would like to have a life outside of my work as well. I don't want to be out on the road as much, I want to be around for my wife and children. So I may slack off a little bit compared to what we've been doing.

The great thing about the internet stuff is that you are your own commissioning editor. So you can keep going or move on to something else whenever you like. As long as people keep coming to see it or listen to it. So the audience are also the commissioning editors (laughs). But that's a nice position to be in.

Richard Herring interviewed by Alex Musson
in 2015 and 2010
Originally published in Mustard #05
b
Print sold out
Digital edition