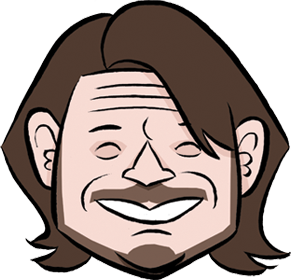 Mustard
interview
Richard Herring
The stand-up comedian and writer talks about Lee & Herring, stand-up, writing Time Gentlemen Please, growing a Hitler moustache, and being called 'a leading hidden master of modern British comedy'.
full exclusive interview in Mustard #05
iPad: Feb 2015
PDF: Feb 2015
~ Excerpt ~
What gave you the idea to grow a Hitler moustache, and has the response been surprising?
The idea came out of a Collings and Herrin podcast. I was away writing in a remote cottage and Andrew was going to come out to stay the night and do a podcast. With all the homoerotic tension that I attempt to cultivate, I thought it would be quite funny to shave down to a Freddie Mercury-style moustache and see how he responded.
We ended up discussing what would be the weirdest moustache to have, and decided it would be a Hitler one. This got me thinking about why this moustache is no longer allowed and what would happen if I grew one. I had some ideas for material about racism and prejudice and this seemed the obvious hook for the show.
The strangest reaction was the lack of one. I'd expected to get into trouble, or at least get a lot of comments, but I was ignored by the vast majority of people. Although a white van man congratulated me and told me I was a man after his own heart, which was the most sinister and unpleasant moment of the year.
Congrats on the new radio series, was it good to be back?
It's really good. I have fond memories of those early days on Radio 4, so it's terrific to have my own show again. Patrick Marber said "Radio is where you begin and end your career," but I disagree. In many ways it's preferable to TV in that there is an intimacy to it all and, more importantly, fewer people telling you what you can and can't do. I just worked with the show's producers and was amazed at how little outside interference we got. They scarcely edited anything on grounds of taste. We're doing more next year and I hope I will continue to work in this medium throughout the rest of my career.
You've been called "A hidden master of modern British comedy", is that a bit of a double-edged sword?
I think that's an amazing compliment and the "hidden" part is fairly accurate, especially at the time the piece was written, but to a certain extent still.
Most people have no idea who I am. I've never troubled awards committees with my work and was, for example, entirely absent from Channel 4's 100 best stand-up list. Yet I've been fairly consistently producing interesting work throughout my career. I've done eight one-man shows in 10 years, which have been pretty consistently good. It's only in the last year or two that audiences for these have started to rise. I've joked with my crowd that they know I'm brilliant but they're keeping it to themselves.
Also, I think my blogs and podcasts have been impressive in their hit rate and relentlessness, but they only have a cult following. Even my TV work, from Lee and Herring onwards, has slipped under most people's radars.
A few years ago I was a little bitter about the lack of recognition, but now I'm more philosophical. I quite like being slightly hidden away. I have a viable career and yet can go about my daily life without too much hassle. And I have the freedom to do whatever I want. If my profile was higher I might have been advised not to do my Jesus or Hitler shows, or to be more guarded in my podcasts.
I don't know why I've remained hidden. I sometimes wonder if I did something wrong somewhere down the line. But I also think there's still time to gain more recognition. Hopefully.
Tell us a bit about the Bye Bye Balham book, the collection of the first six months of your 'Warming Up' blog.
Originally, about four years ago, I had tried to do it as a sitcom: 'the story of a comedian's everyday life', but unfortunately that got pole-axed when Lead Balloon came out. So this time last year, when I gave up drinking and suddenly had a burst of creative energy, I put the book together. I think it works quite well as a story, especially with all the comments I've added.
Go Faster Stripe, the indie publishers who do my DVDs, printed 2,000, and they had to sell 350 or something to break even, which we've done.
It can be so frustrating getting TV and book deals done, but I'm in the lucky position to get a lot of things produced. It'd be such a shame if the Edinburgh shows disappeared, so it's great to have them live on as DVDs.
What were the comments you added?
They were to add context or talk about things I didn't want to say at the time. For example, at one point I was writing a film script based on comedian Glen Wool's routine about how he got a spot on the end of his cock and he had to get a biopsy. And while I was writing the script the same thing happened to me! I had to have a biopsy and stitches, the doctors couldn't work out what it was, all exactly as in the script. It was really freaky. At the time this was going on it felt way too personal, but now time has passed I've added that in.
Your blog's a diary but it's also public, so are you conscious of your audience?
Whatever you're putting out there, you want to be out there. I do occasionally write a diary but usually when I am really depressed or angry. I wouldn't like that to be published. But I don't think I'd have got as much stand-up material without doing the blog.
In stand-up there are things that I take months to build up the courage to talk about, but with the blog you have to make that decision right away. It's made me think I should be more honest in the blog. The only worry is those slightly mental people who become a bit obsessed. The blog gives them the idea that they're your friend, that they're in your life.
But the blog was really helpful. If I hadn't done it, my life and career would have turned out a lot differently.
In what way?
Well, I don't think I'd have gone back to doing stand-up. The blog is a great way of generating ideas. Even if you forget them, you can go back and think 'Oh yeah, that might work'. It kept me writing, made me much better as a writer, and it reminds people you exist! I was at a point where [Edinburgh show] Talking Cock had finished and I'd just come off writing Al Murray's sitcom, Time Gentlemen Please, and was faced with a gaping chasm.
Time Gentlemen Please came so quickly after the end of This Morning With Richard Not Judy that I hadn't had time to think about how that had ended, and that me and Stu's double act had essentially ended.
Stu and I both went through wilderness periods for a couple of years where we tried to come to terms with the shift in our position, and what we were going to do next. It was easier for him, because he'd been doing stand-up all the time, and his double act character was the same as his stand-up. I had to sort of reinvent myself, so I think the blog helped me to re-find who I wanted to be on stage.
I made a lot of money doing what I did with Al. I bought a big house and that gives you the freedom not to work, which was strange because up to that point we'd just been working so hard, and really caring about what we did. Suddenly part of me was going 'Well, why am I working so hard when nothing I am doing is gaining me any kind of recognition? Bollocks to it, I'm going to go out and get drunk and chase girls and whatever, and not work'. I was quite bitter.
How do you feel now?
I've got it much more in perspective. And a lot of comedy people and fans appreciate what I am doing, which is great. In the end that's better than anything. Going around the comedy circuit, a lot of younger comedians tell me that they have been inspired by me and Stu, which is really lovely. But it just took me a little while. It's interesting, because Stu's now had that critical acclaim that Lee and Herring never got. We've had this 10-year delay where some of our fans from then are now in charge of stuff, and are giving us work, giving us kudos.
Do you watch Stu's live shows?
I don't, just to make sure we do keep stuff as different as possible, though we actually end up doing similar stuff!
Are you both better stand-ups now?
Yeah, I think so. We've been successful enough to get to a place where we've been experimenting, and to have known what it feels like to have failed and be kicked out of the door. It makes you better as a comedian and writer. Failure is much funnier than success.
And is it financially viable?
Some things pay a lot, some don't, but the pay doesn't really make much difference to me. Every now again, one of the things will do well and that will fund the other stuff. During the period covered in the book I wasn't working as hard, but all the repeat fees from Time Gentlemen Please and Talking Cock kept me going for a couple of years.
Then with The 12 Tasks of Hercules Terrace I was hardly doing anything else apart from that show for about 6-7 months. The bit where I date 50 women in 50 days cost me £5k. All for a 12th of a one-hour show, and I ended up not really using much of it, due to time and not wanting to talk about any of the girls. That was 50 straight days of getting drunk, organising stuff, sleeping, getting up going out… it was a terrible, brilliant idea – a bit of heaven and hell.
It was my least successful Edinburgh show. It felt like a big step backwards, but it made me pull myself together. I thought a) what I'm doing is essentially stand-up; and b) why am I scared of doing stand-up? ...

Read more of Richard's thoughts on:
perspective * blogging * reinvention * Time Gentlemen Please
RESD* alternate universes * the joy of stand-up
Full exclusive interview in Mustard #05
iPad: Feb 2015
VMMMMM
PDF: Feb 2015