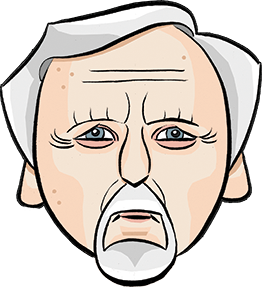 Mustard
interview
Dennis Hopper
Mustard's Richard Luck interviewed actor, director and force of nature Dennis Hopper several times during his later years. Here, for the first time anywhere, are four of those conversations.
~ 3,100 words ~
Published in Mustard #05b
Print sold out
Digital edition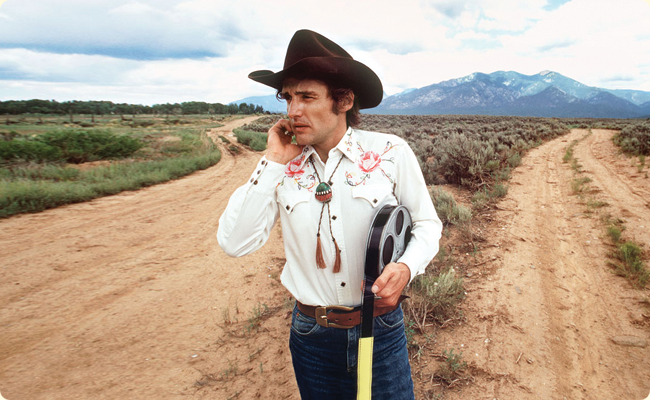 Part I:

Five of his films that Dennis thinks deserve rediscovering
Tracks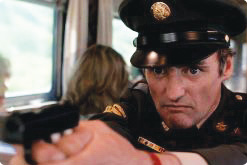 I made Tracks with Henry Jaglom, who was the editorial consultant on Easy Rider and had a part in my picture The Last Movie.
It's about an unhinged Nam veteran – that's me – who accompanies the body of his best friend on a train journey across America. It's a really strong picture. The friend's played by Dean Stockwell, who I've known since forever. He was another of these good looking kids who got sick of playing by Hollywood's rules – he was my Billy The Kid in The Last Movie.
So you've got this insane GI, you've got the ghost of his best friend, you've got Taryn Power playing this sweet girl my character falls in love with, and you've got these real people on real Amtrak locomotives. We didn't have permits to shoot on the railroad so we had to steal as many shots as we could before the guards ordered us to get off.
I later found out that Henry wrote my part for Jack Nicholson – they'd worked on each other's directorial debuts. In 1977, Jack was one of the biggest stars on the planet. He'd won the Oscar for Cuckoo's Nest and he was working with all these legends like Elia Kazan [on The Last Tycoon] and Marlon Brando [on The Missouri Breaks]. Me? I was just a bum. But I'd put Tracks up against any film Jack made during that time – that's how good it is.
Mad Dog Morgan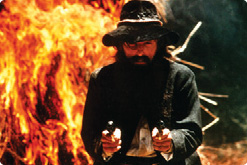 I made two films in Australia; the Frank Sinatra picture The Night We Called It A Day in 2003 and Mad Dog Morgan in 1976. When I arrived in Sydney to make the Sinatra movie, everyone asked what it was like to be back Down Under. Truth is, I didn't remember anything about the first time. I wasn't in great shape back then – I'd wake up and start drinking rum and wouldn't quit until I went to sleep. Things got so bad, I wound up being brought back to the hotel by the police most nights.
The film's great, though. It's a Ned Kelly story with balls. The guy I played, Daniel Morgan, was a real bad-ass.The book the film's based on said that, wherever he went, he always carried eight revolvers: one in each hand and six in his bandolier. The best stunt I ever saw was on Mad Dog Morgan. This madman Grant Page set himself on fire and dived 100 feet into a pool of water. And I thought I was crazy!
When I saw that documentary Not Quite Hollywood, I found out that the Aboriginal actor David Gulpilil – who was just a kid when we shot the movie – was convinced that I was possessed by evil spirits. But there's nothing evil about Bundaberg Rum!
Out Of The Blue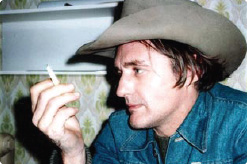 Incest's the last great taboo, I think. You can make movies about more or less anything else and no one will flinch, but you even suggest tackling that subject and they'll show you the door.
Out Of The Blue was this intense Canadian drama that I 'inherited' – the original director, Leonard Yakir, got fired and the producers yanked me out of the bullpen. Linda Manz is this damaged kid who's having a hard time being brought up by her junkie mother and me, her ex-con old man. The mom was played by Sharon Farrell, who was a really great actress – she's great in Larry Cohen's It's Alive. We had some fine supporting actors, too – Raymond Burr was in it; Perry Mason!
It's been said the movie's a companion piece to Easy Rider. I think it's fine if people want to think of it as that. Everyone hated the film, of course. Or, at least, everyone in America hated it. We got a pretty decent reception in Cannes. They've always been good to me there. People don't tend to remember, but I won Best Debut there for Easy Rider. That was nice. Did it bother me, not winning the Oscar? No, not really. People never seem to win them for the right films. I mean, it was nice to be nominated for Hoosiers [aka Best Shot], but I thought I should have got it for Blue Velvet!
Acts Of Love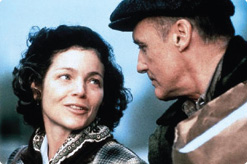 Depending where you're from, you might know this movie as Acts Of Love or as Carried Away or as the movie where you get to see my junk! It's another of those 'sick', compelling films that would never get made if the director was American. Bruno Barreto was Brazilian, and his wife at the time, Amy Irving, co-starred.
I play a crippled schoolteacher who still lives with his mom and who's been dating Irving's character since forever. Then Amy Locane comes to town, this teenage sex bomb, and my character takes up with this nympho. It sounds really tawdry, but I think it's great.
There's one really cool scene where Amy's father, this no-nonsense army guy played by Gary Busey, comes over, and you think I'm going to get it, but instead he breaks down and acknowledges that his daughter has a problem.
That seemed so cool to me. So many films exist in a black-and-white world, but we were daring to say, hey, not every kid is innocent and not every dirty old man is that dirty. Okay, so it's not the most popular message – the movie wasn't a hit – but do you only go to see movies that uphold your world view, or those that challenge it? If you don't go to the movies to think, you're a prick.
If you don't go to the movies to think, you're a prick.
Out Of Season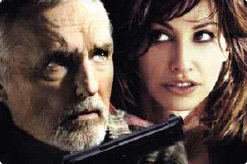 I can't say Out Of Season is one of the best movies I made, but it gave me the chance to work with two really great actresses: Gina Gershon, who's one of those terrific ballsy actors who comes along once a generation, and Dominique Swain, who I'd wanted to work with ever since seeing her in the Lolita remake.
It was one of five movies I made in 2004. People ask why I work so hard. It's because I have vivid memories of how miserable it was being blacklisted in the '50s and '60s. When you've spent years sat on the sidelines, you'll take every opportunity you can to get on to the field of play.
We shot in Romania, which is a country I'd always wanted to visit. While I was there, one of the drivers took me to an old bar with a basement. I thought he was going to whack me but it turned out that, back in the 1970s when Romania was a communist country, this guy and his friends would show Easy Rider in that basement, using an old sheet as a screen.
I don't mind saying that brought a tear to my eye, the fact these guys were watching my film about freedom at a time when they were the furthest thing from free.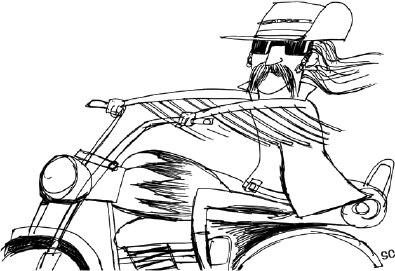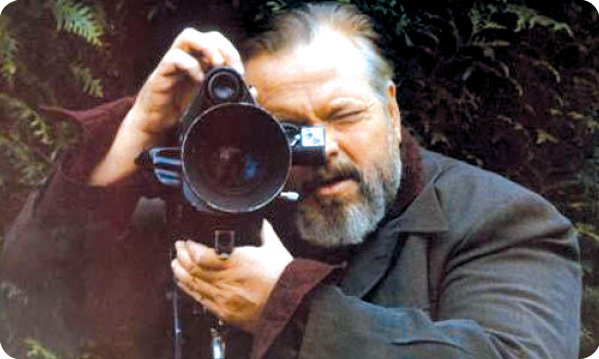 Can I take it you were a fan of Welles long before you met him?
Oh, yeah – of course. I don't think it's a big secret that I have a hard-on for renegades. I just love people who go in and upset the applecart.
When people talk about me turning things upside down with Easy Rider, I always think how amazing it was that this 24-year-old kid was able to make a movie like Citizen Kane when the studio system was at its most powerful. That's a real renegade for you. Of course, he got his ass kicked for it, but that's not the point. The simple fact is, if people want to talk renegade filmmakers, you shouldn't look to the 1960s. You should look to 1940 and George Orson Welles.
How were you cast in Welles' [still unreleased] Other Side Of The Wind?
Well, contrary to what you might have heard, I wasn't hired by Orson Welles. What happened was, I was editing The Last Movie at my home in Taos, New Mexico, and he called up to ask if I'd like to come to LA. I was busy but not so busy that I didn't what to have dinner with Orson Welles. So he flew me over, took me to his house, cooked me pasta and then filmed me talking about movies and filmmaking.
You were playing yourself, then?
Pretty much. I was this young director who goes to a dinner hosted by an old, revered filmmaker to talk about the kind of movies I'd like to make.
What was it like watching the great man at work?
Fascinating. That night he played the part of the old director, but he'd
actually got John Huston to play the role. Because of money and time, Welles was shooting the movie in bits and pieces. To allow himself to do that, he'd written it into the script that, during the dinner, there is this power outage. So Orson set up a few hurricane lamps around me which meant he could tie the footage in with what he'd already shot. It was genius – what a mind to be able to make a movie like that. We filmed all night.
And what was the spaghetti like?
Awesome, man. But then, as you might be able to guess, Orson knew a thing or two about food. It fucks me off, though, the amount of time that's spent mocking Orson about his weight. Okay, so he liked to eat – so what? The bottom line is this: Orson Welles wrote, directed, edited, produced and starred in Citizen Kane. You ever accomplished anything of that magnitude? No? Then go fuck yourself!
He had a sense of humour about his girth, though, didn't he?
Sure, sure. Even during that visit, when I went to leave, he said to me he wanted to give me a recipe for the perfect casserole. So he handed me this piece of paper, at the top of which read "First: slaughter a herd of cattle"!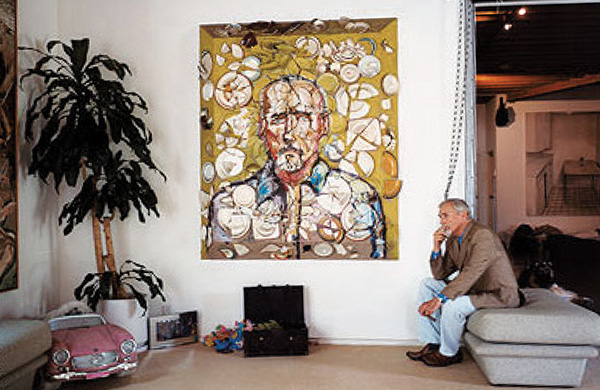 How important is art to you?
As important as acting and directing. In fact, it's possibly more important. You don't have to wait around for a bunch of guys to put some money together to paint a picture or take a photograph. When I was blacklisted in Hollywood, art was one of the few things that kept me going.
Didn't you present a notable BBC art documentary back in the 1990s?
Is that the film where I spat paint all over a canvas and asked whether that could be considered art? That was a good time. It was nice to make a film which suggested that Pele's performances on the football field were on a par with the great art works of the 20th century. At that time, I don't think there were many people drawing those sorts of parallels between art and sport.
You spent some time in New York City in the 1960s. How did you become part of The Factory scene?
I just became good friends with Warhol. I don't remember a specific encounter. As for my relationship with Andy, while I spent time at The Factory I wasn't one of his Superstars. If I have a claim to fame regarding Warhol, it's that I bought his first soup tin painting – it cost me all of $75.
It must be worth a lot more today.
I'm sure it is. I just wish I still owned the thing.
Did you lose it when you got divorced?
Yeah. What a shame!
Speaking of Warhol, you also featured in one of his screen-tests.
That was really cool. With the screen-tests, you'd take a seat and Andy would just leave a camera on you for 10 or 15 minutes to see how you reacted to it. It really spooked a lot of people, that camera boring into them, looking into their soul. Me as an actor, though, I loved it. Because I knew how to use the camera – or rather, I knew how to make the best of what I've got – I could just look into that lens forever. If you watch the test footage, you see the situation reversed: in that screen-test, you've got me looking into the soul of the machine.
Post-Warhol, which painters have particularly appealed to you?
I own a lot of work by David Salle. I was in a film of his with Christopher Walken and Martin Scorsese called Search And Destroy and my payment was one of his paintings. And I'm very good friends with Julian Schnabel.
Julian's film Basquiat was such an amazing piece of work. Not everyone knows this, but the estate of Jean-Michel Basquiat wouldn't allow Julian to use any of Basquiat's paintings in the movie. Why? I don't know – Julian and Basquiat were the very best of friends. Maybe the family didn't want to hear any more about Jean-Michel's drug use. People get jumpy about stuff like that.
Unperturbed, Julian went to his studio and created all of these canvases in the style of Basquiat. It was such an incredible feat. I'd challenge people to look at those paintings and think of anyone else but Jean-Michel Basquiat. But that's Julian for you; he's an incredibly gifted guy. To call him my good friend is one of the great privileges of my life.
In Basquiat you played Andy Warhol's dealer, Bruno Bischofberger – was that a fun shoot?
It was fun but it was also a bit... well, upsetting, I suppose. Of course, I know Bruno very well – we've known one another since his first great Pop Art exhibition of the mid-'60s – so it was nice to be asked to play him. And I had a lot of fun working with David Bowie, who I thought made for a terrific Andy.
But no, it was hard being reminded that this great, utterly original man is no longer with us. What made the situation that much more affecting was that David had been loaned some of Andy's wigs by the Warhol Estate – and they still smelled of Andy! The guy had been dead over a decade, but his scent was still there in the room with us, thanks to those wigs.
Marlon Brando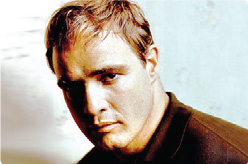 Other than James Dean, there's no one to rival Brando. I just wish he'd been a bit more serious about his acting. I mean, talking about acting as a craft – that always used to shit me. But, hey, if he's a craftsman, he's one of the greatest craftsmen that ever lived. My deal for Apocalypse Now meant I was guaranteed at least one scene with Brando. Unfortunately, I managed to get on Marlon's bad side. So even though we're often in the same scene, it wasn't that common for us to be on the set at the same time. How did I upset him? I'm not sure. As you know, that wasn't a very good time for me. I'd say it was a blur, but that suggests way too much clarity. But if Marlon didn't like me then, that's his prerogative.
Bob Dylan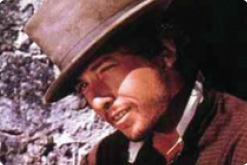 Have you seen Dylan in Sam Peckinpah's Pat Garrett And Billy The Kid? He's so fucking good in that movie. That scene where he's reading the labels on the cans while James Coburn's setting about Billy's allies – I tell ya, that stuff's really fucking hard to do. I'll be honest, I haven't seen all of Dylan's movie work. I hear some of it's pretty rough. But seeing him in Peckinpah's movie, I never felt I was watching a rock star trying to be an actor. He just seemed really, really natural, and that's all you can ask for in an actor. Peckinpah certainly liked him – and he hated everyone, Sam! And as great as Kris Kristofferson is, I often wonder what Pat Garrett And Billy The Kid would have been like with Dylan as The Kid. Pretty good, I reckon.
Melanie Griffith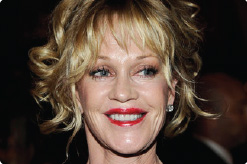 Possibly the greatest actor of her generation. A lot of people hate her, right? That's ignorance. When I signed on for The Night We Called It A Day, everyone assumed it was because I had this burning desire to play Frank Sinatra; because I was a contemporary of his, I guess there was this idea that I felt uniquely qualified to tell his story.
The truth of the matter is, I knew the producers had already signed Melanie and I'd have done anything to have the opportunity to work with her. Not that I'm now any wiser about how she does what she does. I don't think you can learn what Melanie's got. It's one of those ethereal things, I guess. But I had a blast working with her. She's the best thing in that movie by far – and it's a really good movie.
Mickey Rourke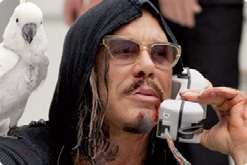 That's another guy with a special gift. Working with him on Francis Coppola's Rumble Fish, I couldn't believe how little he had to do to grab your attention. And all the while, he kept telling himself to do less. It was extraordinary. There's no end of great people in that people – Matt Dillon, Tom Waits, Diane Lane, Chris Penn, Laurence Fishburne, Nicolas Cage, – it's a really meaty cast. But Mickey had so much charisma. He dominates the entire film, even the scenes he isn't in. Is it nice to see him back at the top? Sure, he should be as big a star as he wants to be. He's Mickey fuckin' Rourke, for Christ's sake!
James Dean could do anything. I once saw him perform Hamlet while standing on his head.
James Dean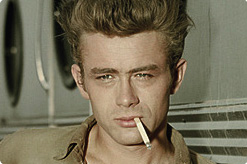 The fucking Man! Dean could do anything. I've said before that I saw him perform Hamlet once while standing on his head. He really did that – the whole 'To be, or not to be...' soliloquy. And he was so good that, within a minute of him starting, you'd forgotten that he was stood on his head.
Working with him on Rebel Without A Causeand Giant, it should have been me paying the studio for the privilege.
Did he like acting? No, not at all. He had a particular disdain for movie acting. Before he died he talked about wanting to direct a film called The Actor which would leave people in no doubt that screen acting was a tough, debasing way to make a living.
It would have been a fascinating film. Now it's just one of a thousand great unmade movies.

Dennis Hopper interviewed by Richard Luck
Published in Mustard #05b
Print sold out
Digital edition