Mustard FAQ
MUSTARD IS PHOTOCOPIED IN FRONT OF A LIVE STUDIO AUDIENCE
illo by Nick Hayes
Q.
WHAT IS MUSTARD? Mustard is an independent comedy mag that's jam-packed with funny words and pictures plus exclusive interviews.
Mustard has been described as the British answer to The Onion and has a bit of a cult following.
It has appeared in episodes of Channel 4's BAFTA-winning sitcom The IT Crowd (and the cover of their DVD), quotes from the mag have been used on greetings cards, sections have been reprinted in books and magazines, and John Cleese was photographed buying the mag in London.
Q. WHAT ARE THESE 'FUNNY WORDS AND PICTURES'?
Each issue features new comedy stuff, such as satirical news stories, first chapters from non-existant novels, spoof film posters and magazine covers, comic strips, cartoons and more.
Q. WHO'S BEEN INTERVIEWED IN THE MAG?
Everey issue has an extensive, exclusive interview with one of our comedy heroes, including Michael Palin, Graham Linehan (Father Ted), Sam Bain & Jesse Armstrong (Peep Show), Alan Moore (Watchmen), Stewart Lee and Richard Herring, John Lloyd (QI), Robin Ince, and Fred Armisen and Carrie Brownstein (Portlandia).
Two interviewees liked the mag so much they've written articles for it. Matt Berry (Snuff Box, Darkplace) has a regular column and he also wrote Mustard a song. Alan Moore wote the 'Cult Corner' for issue #05 and also asked Mustard's editor to contribute a regular two-page spread to his underground mag Dodgem Logic.
Q. WHAT DO YOU MEAN BY 'INDEPENDENT' MAGAZINE?
* Mustard has no financial backing and is self-published (it's a labour of love)
* All the contributors work for free but retains copyright to their work

Q. HOW DO I GET HOLD OF COPIES?
Mustard is available in some independant shops, but it's easier to buy copies here on our website.
Q. HOW MUCH IS IT?
There's a £2.50 cover price which helps us to cover our printing costs..
Q. WHO ARE THE WRITERS, ARTISTS, ETC?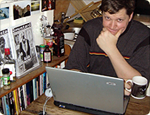 My name's Alex Musson, I put Mustard together in my spare time: editing and designing the mag and writing about half of each issue. (I also did this website - web design is my day job.)
The other half comes from various other contributors, each doing one or two articles or illos. There are about a dozen other contributors per issue; several are regulars but there are lots of one-off contributors too - see our staff pages.
Q. SO DO YOU ALL WORK TOGETHER IN AN OFFICE SOMEWHERE?
No, it's really just me sitting at my laptop here in London, with the other contributors emailing me stuff every so often. Many of them I met at work or socially, but some I've never met at all (one artist lives in Russia). Although a couple of Mustard writers have lived on my floor.
Q. HOW OFTEN DOES IT COME OUT?
The first four issues were quarterly, and then there was a bit of a recession-induced hibernation. Issues #05 to #08 came out annually after that.
Q. CAN I CONTRIBUTE?
Mustard is currently closed for new contributions, sorry.
Q. WHY IS IT CALLED 'MUSTARD'?
Because of a guy called Derek Wall »
Q. HOW MANY ISSUES HAVE THERE BEEN?
There were six of the original photocopied black & white issues, and eight of the new colour issues that you can buy in the shops. More on the different issues »
Q. HOW CAN I GET INVOLVED?
Lots of ways! See Contact to find out how to:
* Get on the mailing list
* Give us your feedback
* Advertise with us
* Become a stockist